Hiring freeze out, but wider job cuts on tap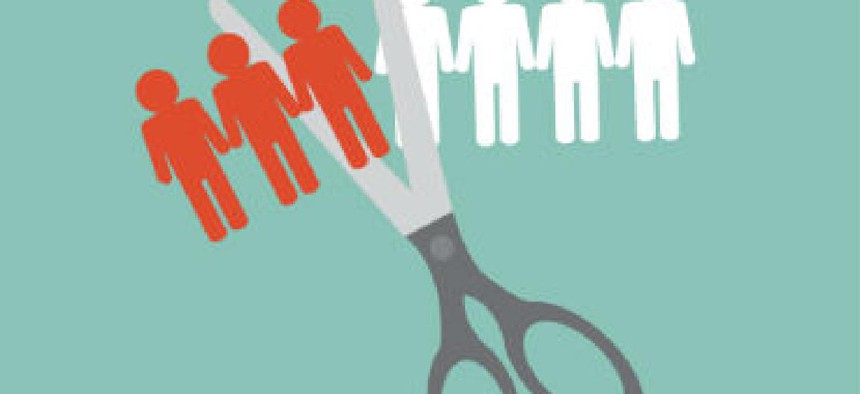 While the White House announced an end to the 90-day hiring freeze, agencies will still be on a short leash -- and legacy IT systems are also in the president's sights.
The White House is releasing guidance to agencies on the morning of April 12 that puts an end to the blanket civilian hiring freeze, while cautioning federal hiring managers to keep their workforce plans in line with President Donald Trump's "skinny budget," which tilts spending priorities sharply toward defense and homeland security.
The move comes at the end of a 90-day review period following Trump's executive order, which put a freeze on civilian agency hiring. While numerous exemptions emerged throughout the duration of the freeze, the end of the freeze will give hiring mangers more agility when onboarding personnel. However, the new guidance doesn't mean open season on hiring.
In an April 11 briefing for reporters, Office of Management and Budget Director Mick Mulvaney said agencies will be expected to make hiring decisions in accordance with Trump's plans for the budget, which proposes a $54 billion hike in defense spending, increases to Homeland Security and Veterans Affairs, and cuts to domestic programs and foreign aid.
"So what the guidance really does is tell them, 'look to the budget blueprint and fashion your hiring and the paring down of your workforce consistent with the budget,'" Mulvaney said.
The administration's hiring and budget plans, Mulvaney said, dovetail with a larger effort to reorganize government, by eliminating some functions, combining overlapping programs and devolving some activities to the states or the private sector.
Agencies are due to report back in June with preliminary plans on finding efficiencies, eliminating waste and making hard decisions about program priorities, with final plans due in September.
"The government reorg is probably the biggest story that nobody is talking about," Mulvaney said.
Restructuring government, Mulvaney said, is the policy outcome of Trump's pledge as a candidate to "drain the swamp" in Washington, D.C.
"This is really important to the president," Mulvaney said. "We focus on things like getting lobbyists out of the process, and the five-year ban, and all that. And that's certainly part of the draining the swamp. But really what you're talking about doing is restructuring Washington, D.C., and that is how you drain the swamp."
At the same time, Mulvaney said federal employees shouldn't worry or experience a diminution in morale as the result of the looming budget axe.
"I think it's wrong to sort of paint with a broad brush and say, because we are going to be reducing the overall size of government as part of this, as consistent with our budget, that that means that everybody should just focus on who is getting fired. That's the wrong message to take from this," Mulvaney said. "The right message is we're trying to figure out a way to make the government more responsive and more accountable, and that means taking care of the people who are doing a good job."
The plans from OMB and the agencies, with input from the public, will be "hardwired into the 2019 budget," Mulvaney said. Planning for that budget will start in earnest in the fall of this year.
Mulvaney, who formerly served in Congress and was one of the most vociferously anti-debt members of the House Republican Caucus, is realistic about the need for congressional support for some of the government reorganization activities.
"There will be certain things for which we will need the legislative authority," he said. "We don't know what those are yet because we don't know what the final plan looks like, but certainly we're hopeful to be able to have congressional buy-in to try and get some of this accomplished."
At the same time Mulvaney advised not to "discount the power of inertia." While the administration was battling "the inertia of 240 years of federal government," he said, that same quality of inertia "works to your advantage once you change it, because then it becomes very hard to change again."
President Trump, meanwhile, raised the prospect of a different sort of change earlier in the day. At an April 11 meeting of the President's Strategic and Policy Forum that Mulvaney also attended, Trump stressed the need to replace aging federal IT systems and casually suggested spending $10 billion on modernization.
"We have a computer system in this country that's 40 years old," the president said. "So when you hear we're hacked and we're this, that -- we're like easy targets. ... We're going to have a massive program to modernize our equipment -- ideally get brand-new equipment."
The cost of maintaining legacy systems, Trump said, is "is so high that it's not even a believable number." He suggested the government is spending between $39 billion and $89 billion a year "for keeping our computers updated and running."
"I think we can buy a whole new system for less money than that," he added. "I mean, I hope so. We'll give you $10 billion right now -- modernize it."