Is the old-school agency hierarchy doomed?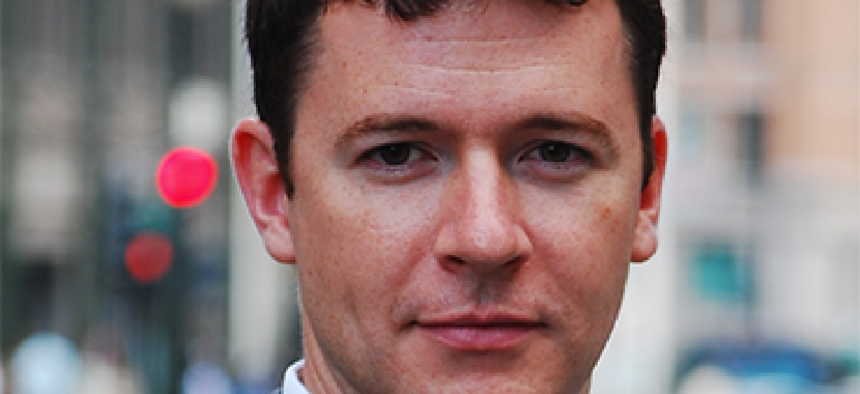 If you want to influence opinion, find a strong viewpoint and express it, says Evan Burfield. (File photo)
The leaders of the future are already working in the government and industry, and they are riding a revolution in technology that is making existing organizational structures obsolete, according to several speakers at the FOSE trade show in Washington, D.C.
The speakers described a coming era that will demand and reward creative thinking. The discussion was spread over three sessions of the Future Government Technology Leaders Program, sponsored by the Young AFCEANs. In the private sector, half of the economy has already moved away from sharply defined hierarchies, said Evan Burfield, founder of tech-business incubator 1776. But the federal government could have a harder time adapting.
In the traditional company -- and agency -- structure, multiple layers of personnel exist for a purpose that often amounts to moving information around, he said. Under the emerging new approach, "what you see happen over and over again...is that you just don't have those middle layers," he said. "It's not that the business becomes more entrepreneurial, it's that you collapse the layers down and those middle layers just disappear."
"What happens when you release information [is that] people on an individual level create their own networks outside their offices," said Karina Homme, senior director of social enterprise transformation at Salesforce.com. "People can now create communities around their interest areas, so it creates a new layer within the organization" that cuts across the others. If policy doesn't inhibit that process, she added, organic innovation arises.
The value of holding onto information -- a traditional kind of power within an organization -- is undermined in such a situation, Burfield said.
"It's amazing what you can discover on Twitter just by going to search for it, learning certain hashtags, finding out who the people to follow are," he said. "The challenge is it tends to be highly meritocratic.... If you really want to build that network, you have to produce content. If you want to be an influencer, you have to formulate a viewpoint and learn to express that viewpoint in a compelling way."
As part of the change, traditional IT departments will disappear and even cloud computing might prove to be only a stepping-stone to something bigger, the panelists predicted. After moving IT assets to the cloud, the next phase will be to do away with assets altogether and weave together existing Web services to gain the IT capabilities an organization needs.
The start-up companies that Burfield works with are not, as a rule, looking to create products. Instead, they're trying to develop ecosystems or groups of people that can be brought in as needed to solve a given problem.
The challenge for the federal government is how to structure agencies along those lines. Burfield and Homme said programs such as the Presidential Innovation Fellows and the competitions agencies hold to develop innovative solutions are early signs of the government testing these waters.
"We want to bring [together] people to solve a problem over a certain period of time, and then we want them to go away, back to whatever they were doing," Burfield said. "I think you're going to see more and more programs like that where there's an ecosystem of talent that comes in to solve a problem and then goes away to solve some other problem."
Travis Hardy, assistant vice president and business development manager at SAIC, said well-established organizations, especially large ones like the government or his own company, must make a real effort to break out of old ways of thinking.
"When people start chanting mantras about innovation and change, the first reaction is to add another layer of bureaucracy [and say], 'Let's get a tiger team on that,'" he said.
"One of the challenges of innovation is [that] people often believe it's a technology or a tool that should be used for its own sake," said Laura Stanton, director of innovation at the General Services Administration's Federal Acquisition Service. The better approach is to identify the business need and then seek a solution.
For now, start-up companies that want to develop government business must play by the old rules, which can be a burden, a panel of entrepreneurs agreed.
"In the government contracting market, it just doesn't happen overnight," said Joe Punaro, a founding partner of systems engineering firm BluestoneLogic. "That's what I wasn't prepared for, the length of time -- 18 to 36 months -- it can take."
Naveen Krishnamurthy, CEO and founder of RIVA Solutions, advised entrepreneurs to plan for a two-year runway.