Hassan, Cornyn try again with IT modernization bill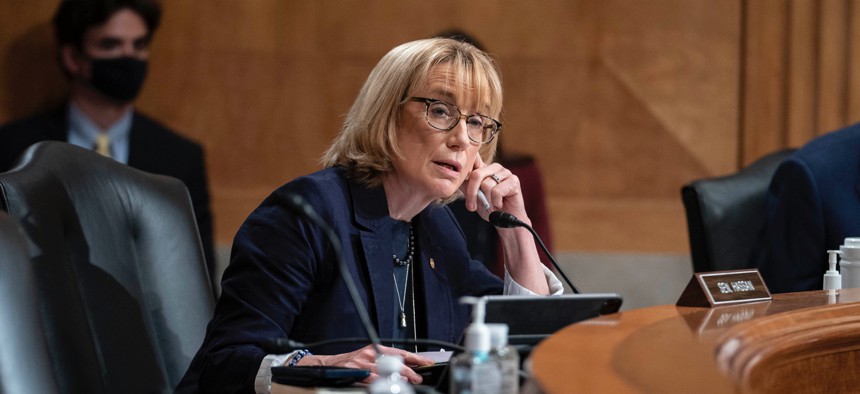 Sens. Maggie Hassan, D-N.H., and John Cornyn , R-Texas, are restarting a plan to press federal agencies to inventory and prepare plan to retire their legacy IT systems.
The bipartisan duo reintroduced their Legacy IT Reduction Act legislation, — first offered in 2022, — in the Senate this week. The bill tasks federal agencies with developing detailed inventories of legacy IT holdings and with developing modernization plans.
The 2022 version of the bill passed the Homeland Security and Government Affairs Committee but never received a vote in the full Senate.
"Too many of the government technology systems that we rely on every day are not up to today's standards," Hassan said in a statement. "Updating these systems is a commonsense way to help strengthen cybersecurity, improve taxpayers' experience using these systems, and ultimately save taxpayer dollars."
Hassan's interest in the legacy IT problem dates back at least to a 2019 Government Accountability Office report that examined 65 legacy systems at federal agencies and found heightened security risks as well as a lack of concrete plans to modernize.
In June 2020, Hassan dashed off a series of letters to federal agencies noting that "the public health emergency caused by COVID-19 underscores the need for federal agencies to invest in modernizing current IT systems that cannot meet mission expectations in a crisis." 
Agency responses to her inquiries led to the development of a bill that would, among other things, require the Office of Management and Budget to define precisely what constitutes a legacy IT system. 
The lack of response to Hassan's questions from some agencies may have had an impact on the legislation as well. At a May 31 hearing of the Senate Homeland Security and Government Affairs Committee's subcommittee on Emerging Threats and Spending Oversight, Hassan told the Department of Homeland Security's chief information officer that she was still waiting to hear back about the agency's modernization efforts.
"In 2020 and 2022, I wrote to DHS requesting a department-wide IT modernization plan," Hassan said at the hearing. "The department still hasn't provided one. IT modernization plans play an important role in an agency's ability to make progress on their IT goals, control costs, and provide transparency."
If the bill passes, those reports will be a matter of law — due to be completed within two years of the legislation's enactment.