Lawmakers tackle VA pharmacy tech woes at hearing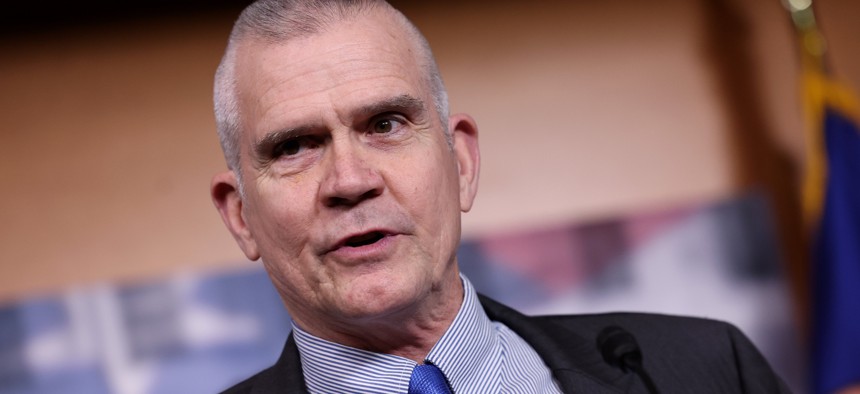 The Department of Veterans Affairs is in the midst of a pause on its multi-billion dollar electronic health records software program because of patient safety and usability problems. The Oracle Cerner electronic health record system has been launched at a handful of VA sites and the agency has committed to fixing existing problems before wider deployment.
One major area of concern is the pharmacy module. The Veterans Health Administration operates its own pharmacies for patients and is the only government health care provider with the authority to negotiate drug prices with manufacturers. Pharmacy personnel at the initial go-live site, Mann-Grandstaff VA Hospital in Spokane, Washington, identified problems with prescription writing tech at least as far back as August 2021.
In April 2022, Rep. Matt Rosendale (R-Mont.) urged Cerner and VA to fix the interface between the Cerner record and its pharmacy module, noting that personnel were struggling with "a needlessly complicated, time-consuming, error-prone, double-entry process to prescribe medication that saps productivity and puts veterans at risk."
Rosendale, who now chairs the House Veterans Affairs Committee's subcommittee tasked with oversight of the VA's Electronic Health Record Modernization Program, said at a hearing on Tuesday that, "the pharmacists are in distress and they do not feel their concerns are being taken seriously." 
In his opening statement, Rosendale noted that pharmacies at the five clinical sites now relying on the Oracle Cerner system are adding staff to patrol for errors and to manage help desk requests and are seeing operating costs rise and morale plummet. 
Mike Sicilia, who leads the Oracle Health Business Unit as an executive vice president at the software giant, said that following the company's acquisition of Cerner in June 2022, they initiated an effort to accelerate the rollout of pharmacy module improvements.
"Members were especially concerned because at that time, Cerner had provided estimates of up to three years to complete the enhancements VA was seeking for the pharmacy capability, which clearly was unacceptable," Sicilian said, adding that Oracle delivered on the top three enhancements sought by VA in four months, and four more will be ready by early 2024.
Dr. Neil Evans, a VA clinician who is leading the EHRM program on an acting basis and has previously served as acting agency CIO, said that so far the feedback from frontline pharmacy personnel is that, "the improvements have been small and incremental."
Evans added: "Although these updates are gradually improving the clinician experience, pharmacy staff need an accelerated delivery of upgrades to the new EHR system to eliminate the burden of the labor-intensive human mitigation strategies currently in place."
Evans is hoping that the current pause on deployments will "allow VA to focus on execution of system updates and systematically resolve key issues before resuming future deployments."
One big question that was unasked and unanswered at the hearing is why VA's two-sided pharmacy operation wasn't flagged for special attention in the design of the contract before it was signed in 2018.
"None of these problems were unknown," former VA CIO Roger Baker told FCW in an interview. "There are a lot of very smart people at VA at the working levels. I'm sure they understood most, if not all, of these problems. But their ability to raise the issue was overtaken by the senior level direction to get the contract done."
VA awarded Cerner, then an independent company, a sole-source contract in 2018 in order to position VA to be fully interoperable with the Department of Defense, which selected Cerner as its health record provider in 2015. 
Former president Donald Trump touted the plan to tap Cerner for VA's health records at a White House event in June 2017. The actual contract wasn't signed until over a year later.
"This is one of the biggest wins for our veterans in decades.  And I congratulate Secretary [David] Shulkin for making this very, very important decision," Trump said.
The hearing comes as VA is renegotiating its contract with Oracle Cerner for a second 5-year period of performance on the initial 2018 contract. At previous hearings, lawmakers including Rosendale have urged VA to aggressively pursue clawbacks from the vendor for outages, lack of functionality and other issues. 
Rosendale went even further than that in his closing remarks, urging VA to "disentangle itself from this monopoly." 
"This cannot be a conversation just about IT systems. This has to be a conversation about whether VA healthcare is meeting our veterans' needs… The only honest conclusion is that Oracle-Cerner software is failing to do that, and that failure stretches beyond the pharmacy."