Watchdog: Agencies are Close to Clearing All Data Center Recommendations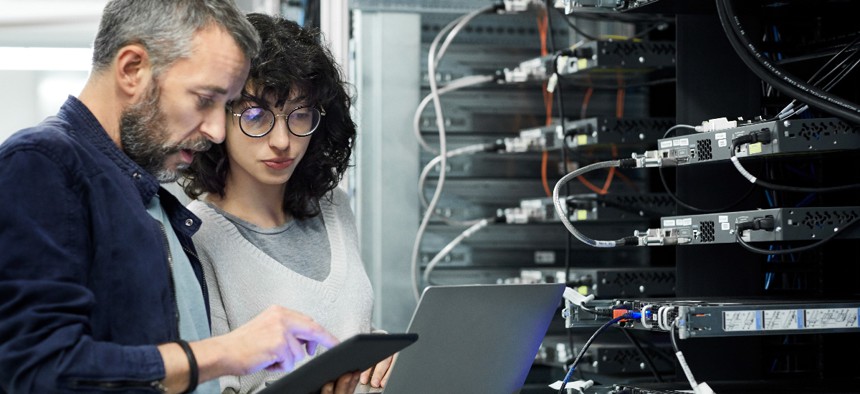 The Government Accountability Office found that agencies have implemented a majority of its recommendations to optimize data centers, but have 16 remaining that would boost savings.
The Government Accountability Office found that agencies have implemented almost all of its recommendations to optimize data centers and save billions of dollars, according to a report released on Monday, but they must implement its remaining recommendations to fully realize the optimization and cost-saving benefits.
The watchdog noted that in 2010 the Office of Management and Budget started to reduce the number of repetitive or outdated federal data centers, as only 5% of servers in data centers were used by agencies as of 2009. Executive and legislative efforts, like FITARA and the Data Center Optimization Initiative—which requires the consolidation of centers and optimization of existing ones—caused the number of data centers to decrease, saving agencies money. 
Specifically, GAO found that in fiscal year 2021, agencies closed 58 data centers—exceeding the goal of 43 closures—and in fiscal year 2022, agencies anticipated closing 78 data centers. Furthermore, the majority of agencies—22 out of 24—met their fiscal year 2021 savings goals, totaling $612 million in savings, and most were expected to meet their 2022 savings goals. The report found that from fiscal years 2012 to 2021, agencies have saved $6.6 billion total. 
In fiscal year 2022, agencies shared mixed progress toward OMB data center optimization targets—which include virtualization, data center availability, advanced energy metering and addressing underutilized servers. In particular, 13 agencies met the virtualization target, 17 met the availability target and 14 met the metering and utilization targets, as of September 2022. 
However, seven agencies do not have agency-owned data centers or have already completed their optimization efforts, and, as a result, reporting on these metrics was not applicable for the departments of Education, Agriculture, Homeland Security and Housing and Urban Development, as well as the Environmental Protection Agency, the General Services Administration and the U.S. Agency for International Development.
Among the agencies for which optimization metrics are applicable, four did not meet the virtualization requirement and three did not meet the advanced energy metering and underutilized servers requirements. But all met availability requirements in 2022. 
As of the date of the audit—which took place from March 2022 to February 2023—agencies have implemented 110 out of 126 GAO recommendations in this area, but "addressing the remaining 16 would help them realize additional savings and more," the watchdog said. GAO noted that it began making recommendations on this topic in 2016.
Therefore, the watchdog recommended that agencies address its 16 outstanding recommendations.
GAO noted that, of the 24 agencies and OMB, six agreed to the report, two provided technical comments and 17 said they had no comments.