VA adds 6 months to health record deployment pause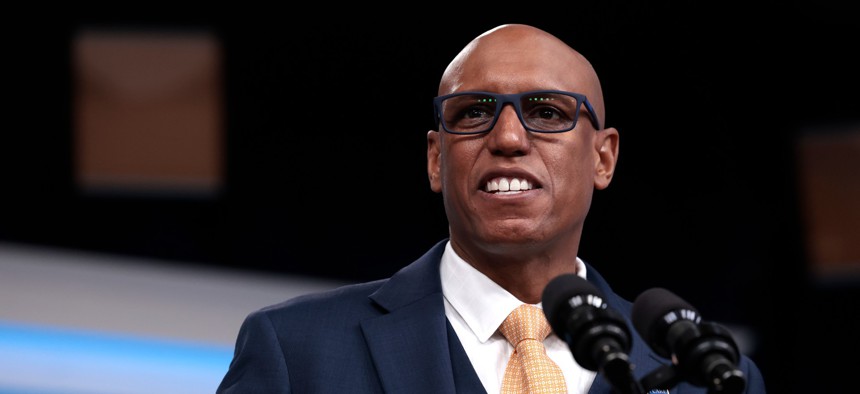 The delay is designed to give the Department of Veterans Affairs and Cerner Oracle more time to iron out serious performance issues in the multibillion dollar software upgrade.
The rollout of new commercial electronic health record software to new locations at the Department of Veterans Affairs is on pause until June 2023, the agency announced on Thursday.
The VA had hoped to resume deployments in January, after years of recurring problems including system slowness, unexpected downtime, problems with scheduling and referrals and other issues.
"Right now, the Oracle Cerner electronic health record system is not delivering for veterans or VA health care providers—and we are holding Oracle Cerner and ourselves accountable to get this right," said Donald Remy, the agency deputy secretary and the official charged with oversight over the multibillion Electronic Health Record Modernization program. "We are delaying all future deployments of the new EHR while we fully assess performance and address every concern. Veterans and clinicians deserve a seamless, modernized health record system, and we will not rest until they get it."
The VA said it will "correct outstanding issues—especially those that may have patient safety implications—before restarting deployments at other VA medical centers" in a release announcing the news. 
A VA spokesperson said there was nothing specific to add to today's release in response to a question from FCW about whether holding "Oracle Cerner and ourselves accountable" included financial consequences for the vendor.
For patients at the five clinical facilities that already use the Oracle Cerner software, VA said it will focus on improvements to the system and ask veterans whose care has been impacted by the new system about the timeliness of prescription deliveries, referrals, scheduling and other aspects of their relationship with VA. Veterans who get in touch with complaints about their care can expect to hear back within five business days, the VA said.
The program to replace the homegrown VistA system with Cerner's electronic health record has been troubled since before it went live in October 2020 at the Mann-Grandstaff Medical Center in Spokane, Washington. Training deficiencies, technical problems including very long login times for users and frequent outages with consequences for morale among clinicians and reports of risks to patient safety are among the major issues cataloged by VA's Office of Inspector General and congressional overseers.
In May 2018, VA signed a $10 billion sole-source deal with Cerner (since acquired by Oracle for $28 billion) to supply its commercial electronic health record software to VA. The agency selected Cerner because it was already contracted to supply a system to the Department of Defense. The use of the same software for active duty and retired military personnel was designed to promote interoperability—a problem that has historically dogged VA, which relied on a stopgap read-only system to communicate between military and veterans' records. 
VA planned on spending $6 billion on infrastructure improvements and program management over the 10-year install period' however, that total $16 billion outlay is likely dwarfed by the true costs of the change to Cerner. Various watchdogs have put the final costs of installing and running the Cerner system at between $21 billion and over $50 billion. 
"This program shows all the signs of a classic large scale government program failure," Roger Baker, former chief information officer at VA, told FCW. "It keeps missing schedule dates, the budget keeps expanding, no one seems to be in control, and users hate it. All there is left to do now is waste a billions of dollars more trying to save face before admitting the obvious." 
Rep. Mark Takano (D-Calif.) the chairman of the House Veterans Affairs Committee, said in a statement that he supported the delay for the sake of patient safety and added, "the sole-source nature of this contract, the lack of market research, misunderstandings about interoperability, and incomplete requirements development under the Trump Administration led to the situation VA is currently in."  
Rep. Matt Rosendale (R-Mont.), the ranking. member on a House subcommittee focused on oversight of the EHRM program and other VA tech, said the pause was "welcome news, adding: "There has been a lot of demonstrated problems with this program and I'm glad that Secretary McDonough is honoring his word in delaying this program until it can be fixed."
VA Secretary Denis McDonough has said at various times that the deployment schedule initially drafted was a "mistake" and that his "confidence has been shaken" after multiple outages, service degradations and other problems with the system.
However, VA so far has only withheld $156,750 in payments to Oracle Cerner for failing to hit system uptime targets under the $10 billion contract, according to congressional testimony from Dr. Terry Adirim, the program executive director for the EHRM project.
At a subsequent hearing of the House Veterans Affairs Committee's Subcommittee on Investigations, Michael Parrish, VA's principal executive director for the Office of Acquisition, Logistics and Construction said he did not think the $156,750 penalty was high enough given the extent of the system outages—which totaled 44 days.
"Coming from the corporate world, that would be different, and that's something we're looking at renegotiating," Parrish said.