Build Back Better setback imperils TMF boost, other tech funding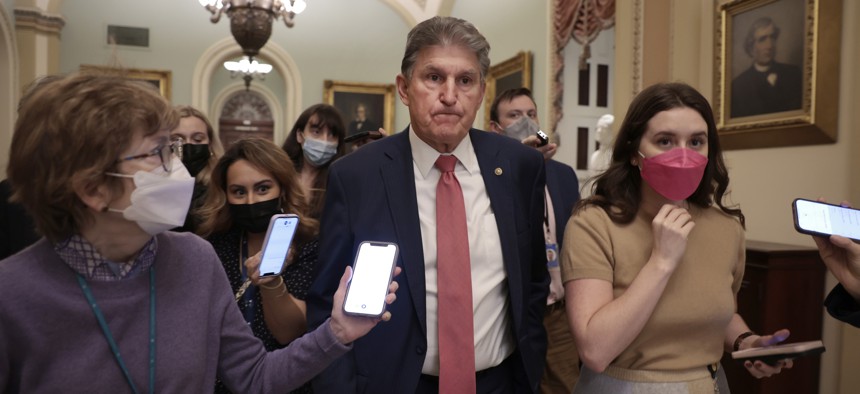 Sen. Joe Manchin (D-W. Va.) dealt a serious blow to the Biden administration's legislative agenda by saying he was a note vote on the Build Back Better bill during an appearance on Fox News Sunday on Dec. 19.
The White House and the Democratic caucus in the Senate were negotiating $1.75 trillion in new spending, which included many but not all of the social programs and environmental priorities contained in the Build Back Better Act passed on Nov. 19 in the House of Representatives by a vote of 220 to 213.
White House spokeswoman Jen Psaki said in a statement following Manchin's remarks that the administration "will continue to press him to see if he will reverse his position yet again, to honor his prior commitments and be true to his word."
While the primary focus areas of Build Back Better involved social programs like extending tax credits for parents, Medicaid expansion, childcare subsidies, paid medical leave as well as measures designed to combat climate change, the bill also included billions for IT modernization and to fund efforts to reduce the reliance of the federal government on fossil fuels.
The bill passed in the House included funding for multiple IT modernization priorities, including $250 million for the revolving Technology Modernization Fund (TMF) as well as $200 million for the Federal Citizen Services Fund (FCSF) at the General Services Administration and $50 million for the Information Technology Oversight and Reform fund at the Office of Management and Budget -- an account administered by the federal CIO. All these appropriations are good through the close of fiscal 2026.
Expectations of Build Back Better funding had been already finding their way into federal procurement documents. At a Nov. 18 industry day for a planned $2.3 billion IRS application modernization procurement, presenters noted in a slide that officials, "Anticipate massive new Legislation, with associated huge increases in resources AND expectations to modernize and deliver."
That is likely a reference to a provision in the Build Back Better legislation to put $4.75 billion in a 10-year investment for IRS business systems modernization.
The bill also includes an estimated $500 million for cybersecurity programs at the Cybersecurity and Infrastructure Security Agency.
In addition to IT modernization, the bill also looked to reduce the federal government's reliance on fossil fuels for its own operations, with $3 billion for fleet electrification at GSA and $6 billion for fleet electrification at the U.S. Postal Service. Additionally, the bill has $4 billion for GSA to improve energy efficiency and to focus procurement on sustainable products and technologies.
Democratic lawmakers aren't giving up hope on passing some of the provisions included in the legislative package.
In a Dear Colleague letter sent Sunday night, House Speaker Nancy Pelosi said: "While it is disappointing that we may not have a law by the end of the year, we are hopeful that we will soon reach agreement so that this vital legislation can pass as soon as possible next year."
Sen. Chris Murphy (D-Conn.) tweeted Sunday, "Ok, so BBB can't get 50 votes. There's still a lot of life changing stuff in BBB that CAN get 50 votes. Not a great day. But take a deep breath, everyone."
On the tech side, some House lawmakers were initially looking for a much larger tech funding infusion in the Build Back Better legislation. Rep. Gerry Connolly (D-Va.) and others had sought $3.5 billion across multiple tech modernization accounts, including $1 billion for TMF and $2 billion for the FCSF.
In a statement following the bill's passage in the House, Connolly noted that technology is key to making sure the social safety net and climate change mitigation programs are successful.
"I thank our leadership for recognizing that If we don't get the IT right, it will be nearly impossible to implement this transformative legislation," Connolly said.