NOAA looks to modernize with EIS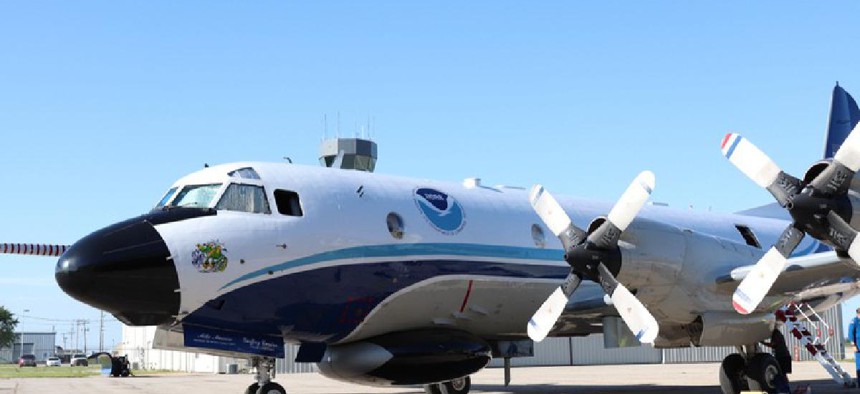 NOAA's P-3 Hurricane Hunter aircraft (Photo credit: Alex Erwin / Shutterstock.com)
The National Oceanic Atmospheric Administration (NOAA) will tap the Enterprise Infrastructure Solutions contract to modernize its networks, including connectivity to thousands of weather sensors, radar sites and remote weather stations across the nation, according to one of its top IT managers.
NOAA signed a $311 million, 10-year task order with AT&T in late September under the General Service Administration's EIS telecommunications contract. According to contracting documents, AT&T beat out two other bidders for the contract, which covers the agency's six subordinate components, including the National Weather Service, National Marine Fisheries Service, National Ocean Service, Oceanic and Atmospheric Research, National Environmental Satellite, Data and Information Service and the Office of Marine and Aviation Operations.
In a Nov. 17 statement, AT&T said it will provide NOAA with unified communications, virtual private networking, IP-based wireless and wireline networking under the agreement. It said it will also help manage NOAA's network and network security.
EIS also consolidates what had been a legacy multi-telecommunications carrier provider environment into a single contract, making management easier, as well as security, said Jeff Flick, deputy director, Service Delivery Division, in NOAA's Office of the CIO, in an interview with FCW.
The new contract, he said, covers 2,000 locations among the component agencies. Not all of those locations had been well-covered by legacy GSA telecommunications contracts, according to Flick, requiring NOAA to fill-in with local contracts on its own.
The contract "expands the envelope" for NOAA and its components to more reliably monitor weather radar, local weather stations, ship and buoy-borne sensors, he said.
Communications reliability is a big driver for NOAA, according to Flick, since lives can depend on some of its sensors that detect and monitor catastrophic weather events, such as flooding and hurricanes.
The EIS contract, he said, will cover the six components' operations, which include far-flung sensors on unmanned ocean-going buoys, river sensors, 200 NexRAD radar stations, as well as 1,100 weather stations.
Through EIS, Flick said, NOAA and its components have an on-ramp for emerging 5G wireless connectivity capabilities, as well as firmer ground for edge computing capabilities. 5G, said Flick, has the potential to kick bandwidth into a higher gear for NOAA's sensors and remote sensing capabilities, as the technology becomes more widespread.