CDO Council, TBM updates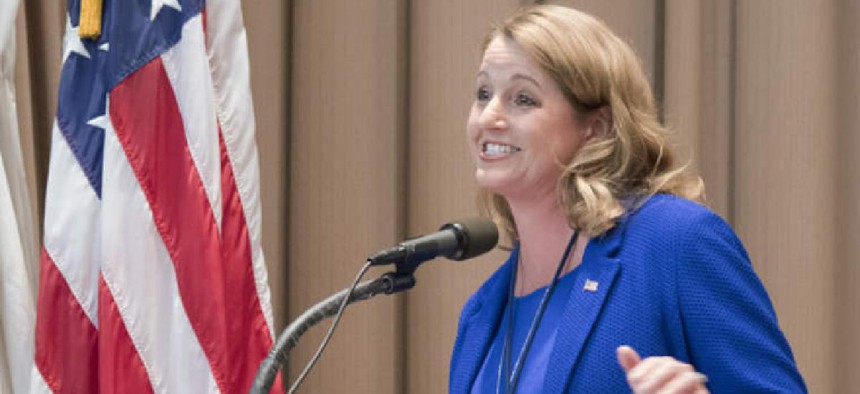 Federal CIO Suzette Kent said that work is happening behind the scenes to launch the Chief Data Officers Council and make progress on Technology Business Management.
Federal CIO Suzette Kent presents opening remarks for the Women in Federal IT & Cyber event on March 29, 2018. (USDA photo by Tom Witham)
The Chief Data Officers Council is set to meet soon, Federal CIO Suzette Kent told FCW on the sidelines of a health IT conference Jan. 15. The CDO Council, mandated by the Foundations for Evidence-Based Policymaking Act and sketched out in a White House memo last July, will convene its first meeting Jan. 31, with Kent and a representative from the Office of Information and Regulatory Affairs leading the first session. The body will elect its own permanent chair and co-chair, Kent said.
The group is charged with developing best practices for data use and encouraging data sharing among agencies.
Work is also continuing on technology business management -- a set of methodologies and data standards to measure IT costs and create a cross-agency framework for understanding IT spending -- even though TBM hasn't been in the news much of late.
"Transparency of spend in federal government is a constant priority," Kent said at AFCEA Bethesda's Health IT summit, and TBM can help ensure agencies are "putting those resources in the right places." Current efforts are simply behind the scenes, she said.
"Much of the work in the last two years has been around both understanding the framework [and] how it applies within the federal government," Kent said. "There wasn't a one-size-fits-all, everybody do this [solution]. There was a specific set of work around defining the standards and creating a standards board."
Kent compared the TBM effort to the work being done around shared services, where "we have to get on the same page about what we're trying to accomplish" and take into account the wide range of agency missions and maturity levels.  
"As we move forward, we are absolutely implementing the framework," she said, "but giving agencies and teams the flexibility to choose the tools that match with what they are attempting to achieve."