Defense and the intelligence community pursue conflicting cloud plans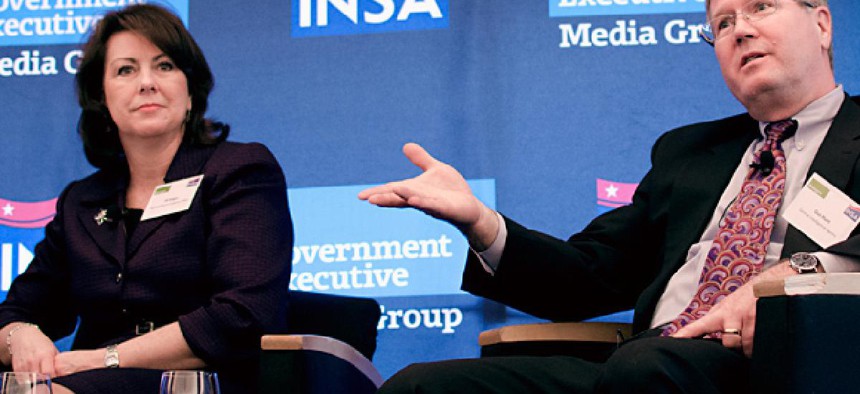 The intelligence community and Pentagon each are developing portable technology services for exchanging information such as cyber threats -- but the arrangements are incompatible right now.
The Defense Department's "joint information environment" and the intelligence arena's "intelligence community information technology environment" share the same goal of decreasing costs and increasing security by shifting work to applications accessible on any device.  The two setups, however, are being constructed separately and differently.
"Ideally, DoD and IC will work together to de-conflict opposing perspectives on the path forward," states a report released Tuesday by the Intelligence and National Security Alliance.
Unlike the intelligence community's architecture, Defense's project is decentralized in that there is no planned acquisition strategy or budget and is funded through military organizations that opt in, according INSA. The paper communicates the perspectives of the intelligence community's chief information officers based on interviews with senior officials.
"To date, implementation of their respective IT and telecommunications visions has consumed significant personnel and financial resources. This has limited the ability of both to coordinate their respective efforts to ensure complementary, mutually supportive efforts," according to the alliance.
Compounding difficulties, the specter of sequestration -- deep governmentwide budget cuts -- has forced both entities to draft Plan Bs for programs. "We're spending an enormous amount of time planning for sequestration in case it does happen," CIA Chief Information Officer Gus Hunt said at a forum hosted by Nextgov and INSA, where the reported was distributed. 
Presumably Defense and intelligence operations will have to coordinate their activities, with President Obama expected to issue a cybersecurity executive order on Wednesday expanding intelligence sharing with defense suppliers and other critical industries.
The Pentagon currently is running a program that provides classified information on cyber threats to cleared defense contractors and Internet service providers. The sensitive communications are provided by the National Security Agency, a hybrid military-intel organization that works closely with the rest of the intelligence community. In fact, more than 70 percent of the intelligence community falls under Defense's jurisdiction according to the alliance. 
Hunt told Nextgov that the new intelligence environment will reduce the labor involved in passing information to NSA and other parties authorized to review information about foreign threats. 
In an interview after Tuesday's event, National Reconnaissance Office CIO Jill Singer only would say that current technology already supports public-private exchanges about computer risks.