Data center savings hard to predict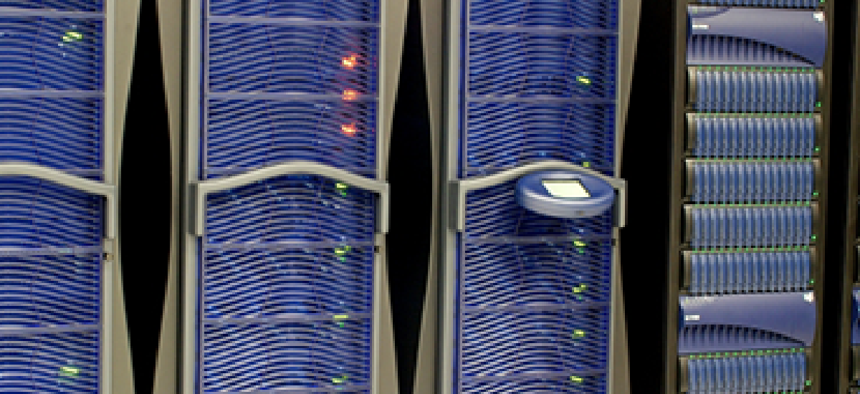 Consolidating data centers saves money through reduced power use, lowered facility costs and a need for fewer employees, but just how much it will save the government is unclear. (Photo: NASA)
Federal agencies are on pace to meet data center consolidation requirements set forth by the Federal Data Center Consolidation Initiative, but incomplete plans and cost estimate information may thwart plans to achieve the initiative's promised cost savings.
The latest figures released by the Office of Management and Budget show that 382 agency data centers have been shut down under the initiative, which aims to close or consolidate roughly 1,200 of the nearly 2,900 identified date centers by 2015.
On the surface, the number of closures looks good, said David Powner, director of IT management issues at the Government Accountability Office, which released a report on data consolidation in July. However, Powner said agencies have not been forthcoming with information necessary to predict cost savings, so it is difficult to gauge what sort of savings are being realized.
Cost-savings estimates for the FDCCI have varied, with OMB predictions ranging from  $3 billion to $5 billion. In the GAO report, agencies predicted roughly $2.4 billion in savings.
"The effort is on pace from a closure perspective," Powner said. "But given the lack of complete plans and cost-savings information, it is questionable whether it is on pace to achieve the $3 billion in savings that has been promised."
Powner said agencies have not provided quality asset inventories, network infrastructure savings or power usage information, "which is directly tied to cost savings," making it difficult to pinpoint hard cost savings data.
At the time of the report, only one agency – the Commerce Department – submitted a complete data center consolidation plan.  "Transparency on the completion of these plans could help,"Powner said.
Currently, the Department of Defense leads the way in data center closings with more than 100.
Calls to the DOD for specific comment on its data consolidation efforts were not returned by press time, nor were calls to the OMB, which has oversight of the data center consolidation. OMB expects agencies to offset data center consolidation costs through savings realized through increased efficiency – in hardware costs, energy usage and staffing required to operate and maintain the centers.
Powner said it is important to note that most data centers closed or consolidated thus far have been smaller data centers staffed in some cases by as few as one full-time employee or a half-time equivalent.  While the impact on the workforce has not been a big issue to date, Powner said, it soon will be as larger data centers begin to close.