All of Apple's new small stuff: iPad Mini and a slimmer iMac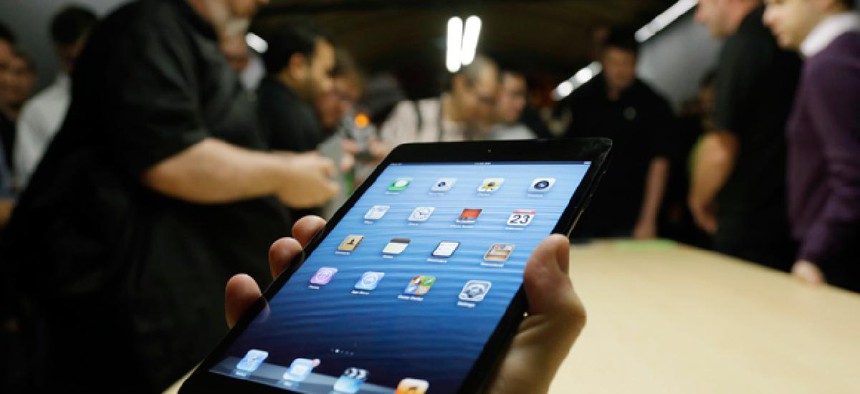 As promised Apple has announced a lot of things that revolve around the word little, including a littler new MacBook pro with Retina display, a very svelte iMac, an iPad Mini and an updated Mac Mini. Here we go:
iPad Mini
The rumorers didn't disappoint, Apple has announced the iPad Mini, which is so small it fits in one hand. 
Specs:
The aluminum tablet is just 0.68 pounds, which is as light as a pad of paper and comes in at 7.2 mm thin, which Apple's Phil Schiller tells us is as thins as a pencil. 
We get a 7.9 inch screen, which unless Apple is rounding up, is a teeny bit bigger than our rumormongers told us to expect. Or maybe they just gave us to the tenth decimal point because it is the inverse of the 9.7 inch screen the iPad has, which makes it easy to remember.
No fancy Retina screen on this: It has the same exact screen resolution as the iPad 2 at 1024 x 768 pixels. 
Again, unlike the new iPad that has an A6 processor, it comes with a dual core A5 chip, which is the same one that it is in the iPad 2. 
But it has cameras! It has a FaceTime HD front side camera and a 5megapixel iSight camera on the back.
Like the rest of Apple products from now until forever, it requires the new baby lightning cord adapter (more on the little theme).
And after all that, it gets 10 hours of battery life, just like the 4th generation iPad. 
Price: $329, for the 16GB with Wifi, $50 cheaper than the iPad 2. For more money, you can get more space and data, too.
Available: Pre-orders start this Friday. The WiFi versions will ship November 2nd, before the rest.
A Super thin New iMac!
Going with that little theme, Apple slimmed down the iMac, presenting the 5 mm thick computer, which next to the old iMac looks quite svelte. 
Specs: It has something called "fusion drive," which is a single drive the merges128GB flash drive with a 1TB or 3TB hard drive. Basically, it has the speed of a hard drive, with all the easy cheap storage of a flash drive. Sounds cool. The computer  comes in two sizes: 27 inches, with a 2560 x 1440 display, and 21.5 inches with a 1920 x 1080 screen. It also comes with core i5 or i7 processors and offers up to 3TB of storage. 
Price: We'd say a very reasonable $1300 for the 21.5-inch iMac with a 2.7GHz i5 processor, 8GB of RAM, and a 1 TB hard drive. The larger 27-inch model will start at $1,799. 
Availability: November and December, with the littler one shipping sooner.
Read more at The Atlantic Wire.