Obama's 50-state Twitter campaign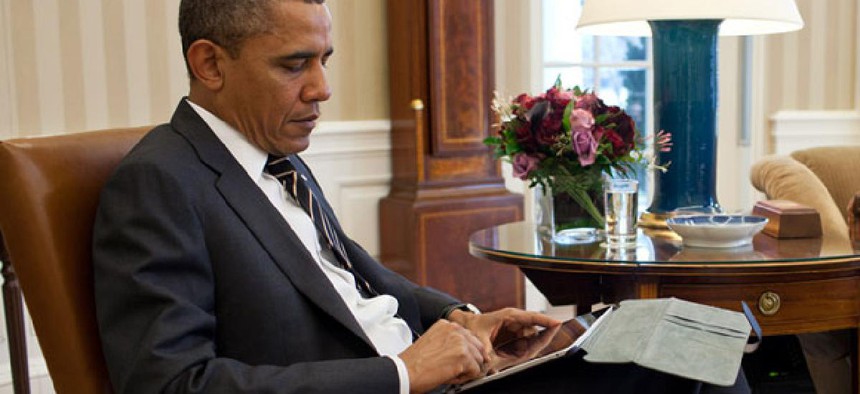 The social-media audience advantage President Obama enjoys over his challenger is so wide that it led the Pew Research Center to conclude in August that the Democrats have a "substantial lead" on Facebook and Twitter. But the topline numbers of Obama's following—28 million likes on Facebook, compared with 6.2 million for Mitt Romney—tell only part of the story.
At the local level, Obama is running a 50-state online campaign. Each statewide field office has its own Facebook page and verified Twitter accounts. The content and activity of these feeds is a virtual reflection of the electoral map. Twitter feeds for safe states, even Illinois where the campaign is headquartered, don't have particularly large followings. A few feeds from confirmed red states are suffering from benign neglect. As of this writing, for instance, Obama for America TN, the official Obama for America–Tennessee Twitter account, hadn't been updated since Aug. 14.
The social-media action is in the swing states. The Ohio effort has 70,000 Facebook likes. InPennsylvania, there are almost 40,000 Twitter followers. Numbers for Nevada, New Hampshire,North Carolina, and Virginia are disproportionate to the size of the population and reflect the attention the campaign is paying to audience-building on social media. There's no guarantee that these followers come from inside contested states, are registered to vote, or are even of voting age, but even allowing for this, the statewide operations can use social media to recruit volunteers and focus attention on local efforts.
The reach of these state operations belie one of the Pew report's central themes—that the Obama campaign is not engaged with followers online. The Obama Twitter account followed by 19 million users is largely confined to the candidate and his top surrogates, with the state accounts slightly more open. In addition to messages that come from the campaign headquarters, the state feeds include occasional re-tweets from volunteers, pictures of smiling college students at a rally, or senior citizens working the phones at a campaign office.
"It's very 'un-Democratic' to give more power to the states," observed Vince Harris, a Republican digital specialist who helped run the insurgent campaign of Ted Cruz in Texas. By contrast, "Romney seems to be running a very Boston-centric digital operation," Harris said. "It's the opposite of how these two would govern."
Still, Beth Becker, a liberal social-media activist and the founder of Progressive PST, said that the Obama social-media structure is run from the top down and would benefit from even more inclusion on the part of local staffers and surrogates. She would like to see high-profile supporters such as Sen. Robert Casey, D-Pa., Rep. Keith Ellison, D-Minn., and Maryland Gov. Martin O'Malley with their own "semiofficial campaign accounts" to focus on local and regional concerns. The statewide Twitter accounts, she said, read like they were written at campaign headquarters, with a few local references and links thrown in. "If you don't trust someone you've hired to take your talking point and turn it into a tweet, then you've hired the wrong person," she said.
The 50-state plan is more evidence that the Obama team thinks of digital as an integral part of the campaign. "In Republican politics, digital is much more siloed off," Harris said. While he credits the Romney team with doing "a fantastic job of catching up in the last two months," the Obama campaign is doing digital at a scale that its opponents can't match.