Lawmakers Face Big Fines for Livestreaming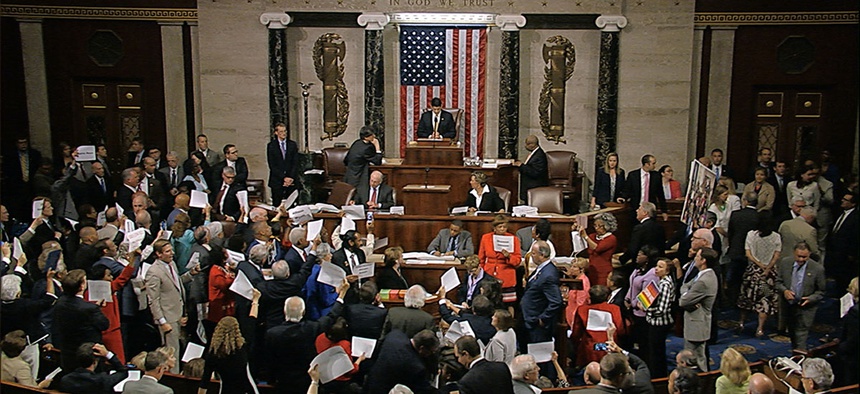 Congressional representatives who livestream or take photos from the chamber floor now face fines up to $2,500.
The resolution was included in the Rules for the 115th Congress, which passed Tuesday in a 234-193 vote that went along party lines. The sergeant-at-arms can impose a $500 fine on representatives for the first offense of "the use of an electronic device for still photography or for audio or visual recording or broadcasting." Fines for repeat offenses jump to $2,500 and can be deducted from officials' paychecks.
The ban is a response to the Democrats' 25-hour sit-in to demand action on gun control after the Pulse nightclub shooting in Orlando. House leadership closed the session and turned off C-SPAN cameras, so Democrats turned to their smartphones to Facebook Live, Periscope, tweet and otherwise broadcast their protest.
» Get the best federal technology news and ideas delivered right to your inbox. Sign up here.
Speaker Paul Ryan, R-Wis., called the event a publicity stunt and aimed to add teeth to the already existing rule that prohibits members from using cameras.
Democrats opposed the fines, arguing the rule may violate the Constitution, violates their rights to free speech and blocks transparency. They also argued they had no due process to challenge fines, though lawmakers revised the resolution to allow officials 30 days to appeal to the Committee on Ethics.
The resolution charges the sergeant-at-arms and the ethics committee with hammering out the policies and procedures.
"We must never, ever give up the right to protest for what is right, what is good, and what is necessary #goodtrouble," tweeted Rep. John Lewis, D-Ga., a civil rights icon and one of the June sit-in organizers.