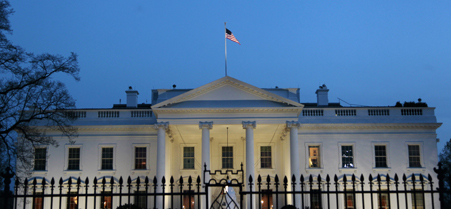 Pablo Martinez Monsivais/AP
President Obama and the White House staff can tap into some of the most sophisticated communications systems in the world, but not the wireless networks found in many U.S. households -- a technology gap the Defense Information Systems Agency wants to fix.
DISA, in a notice to industry posted on the Federal Business Opportunities website on Wednesday, said the White House Communications Agency, which it manages, is looking for a White House campus Wi-Fi network. The network would serve 60 buildings, along with a half mile of three roads next to the White House and several outdoor areas.
The detailed sources sought notice said the lack of a Wi-Fi network has affected the daily operations of White House personnel who have "embraced the use of a mobile virtual architecture."
The staffs of the president, vice president, National Security Council and Secret Service "operate in a mobile environment away from more traditional land line/fixed cable infrastructure," the sources sought notice stated. "In order to fulfill this mission WHCA must provide wireless connectivity in fixed, mobile and temporary environments."
DISA said the White House campus network should support access to Defense Department unclassified networks and the commercial Internet, with both services transmitted from the same access points using separate service set identifiers , which broadcast the name of each network.
The planned Wi-Fi environment should allow White House staffers to move from one access point to another without losing a signal, DISA said.
The agency specified the latest Wi-Fi standard, 802.11n , which has a raw data rate of 600 megabits a second and backward compatibility with the older 802.11 a/b/g standards.
The 802.11 a and g standards provide maximum data throughput of 54 megabits per second and the 802.11b standard transmits data at a rate of 11 megabits per second. The White House Wi-Fi network needs to operate in the unlicensed 5-GHz frequency band that access points and clients on the 802.11a standard use as well as the 2.4-GHz frequency band for 802.11 b/g devices, DISA said.
Howard Robertson, federal sales manager for Wi-Fi access point vendor Tropos Networks, said his company has supplied this kind of campus network to corporations. He estimated it would take about 135 access points to meet the White House coverage requirements -- two access points per building for a total of 120, plus another 15 for outdoor coverage.