The government's FOIA policy changes are adding to work levels and requests — but e-Discovery can help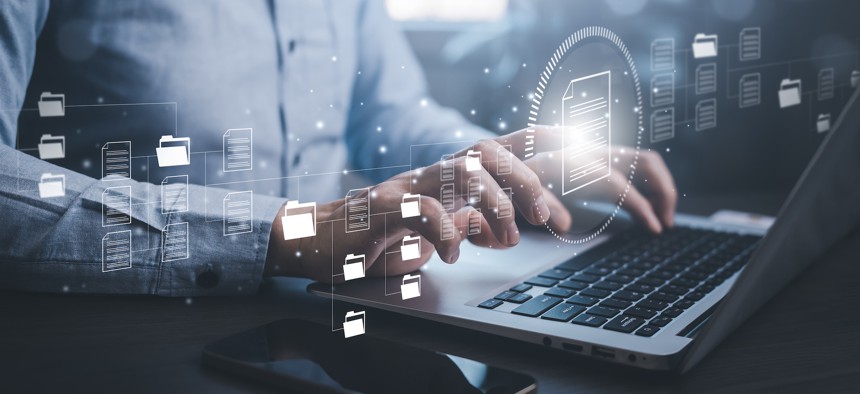 Federal agencies received a record-high number of requests in fiscal year 2022, and FOIA backlogs are growing.
The federal government is working to improve the Freedom of Information Act (FOIA) — making it easier to access public records. Attorney General Merrick Garland issued new FOIA guidelines in March, and the Office of Information Policy has updated its FOIA self-assessment toolkit to assist agencies in conducting self-assessments of their FOIA programs.
However, this has led to a growing strain on the staff and budgets of the government agencies and departments that need to comply with FOIA requests.
In fact, federal agencies received a record-high 928,353 information requests in fiscal 2022, and processed a record-high 878,420 requests, according to the Department of Justice. Yet, the backlog of pending requests still increased by 34% over the previous year. Worse yet, the September 30, 2023, decommissioning of FOIAonline — a FOIA processing and tracking website used by dozens of agencies during its height — is expected to increase the existing backlog. 
Delays in receiving records requests and redactions in requests received have long frustrated journalists, attorneys, government transparency advocates, lawmakers and others who rely on FOIA.
But most agencies' FOIA offices lack adequate technology, are chronically understaffed, and frequently rely on manual processes to answer FOIA requests. 
If an agency does have access to technology, it's often outdated or unable to communicate with other agencies' systems. For example, there are currently 40 individual FOIA portals. 
While policy reform is a step in the right direction, there's an urgent need to further streamline the FOIA response process and reduce systemwide inefficiencies. There are huge pain points that can't be sustainably addressed by hiring additional staff, assuming that were possible. 
To meet the goals outlined in the Biden Administration's Open Government National Action Plan, agencies will also need to address deficiencies in workflows and technologies. 
How e-Discovery technology can help break the FOIA backlog
Luckily, there are ways to help speed the process and minimize the increased workload when responding to FOIA requests. The answer lies in savvy use of an e-Discovery platform.  
In fact, e-Discovery technology clearly aligns with all five of the Biden plan's major themes. By deploying proven e-Discovery technology, agencies could:
Improve access to government data, research and information. 
Increase civic space to engage the public.
Transform government service delivery.
Counter corruption and ensure government integrity and accountability to the public.
Ensure equal justice under the law.
With these goals in mind, here are a few specific ways in which e-Discovery can help agencies solve the FOIA problem: 
Searches and response compilation. Mature, proven technology uniquely equipped to streamline FOIA response processes already exists. An e-Discovery platform can help conduct records searches and compile responses to quickly reduce the FOIA logjam. Using a platform's advanced analytics features and machine learning capabilities can dramatically reduce the manual labor needed to review documents for responsiveness. It can also automate redactions to declassify documents more efficiently. 
Proactive disclosures.  Garland's memo urges agencies that become aware of current issues generating public interest to get ahead of a likely surge in FOIA requests and "maximize their efforts to post more records online quickly and systematically in advance of any public request." Using issue-related search terms in an e-Discovery platform, teams could automate searches and collections for some public documents and post them before a specific request is made. This would cut both staff and search times and limit potential backlog. 
FOIA appeals requests. A potent e-Discovery platform can also help sort and answer requests when users appeal FOIA decisions. FOIA.gov currently doesn't allow FOIA appeals requests, even though an interagency review board releases additional information in 75% of cases in which an appeal is filed. 
Secure collaboration. The right e-Discovery platform can provide a central, secure place for collaboration within and across agencies. The right technology will help staff manage responses across teams and provide an audit trail for a defensible review prior to release to the public. 
The right e-Discovery platform could help alleviate the costs and demands on staff time. Investment in the right technology would allow better communication and faster time to completion of requests — which would lower strain and costs for government agencies. A more efficient, technology-enabled process would negate the need for restrictive legislation that makes it harder to get answers to requests, and swifter responses to requests could also help ease tensions between governments and FOIA requesters.
Engaging with a trusted e-Discovery partner is a win-win for government agencies facing deep FOIA backlogs. The right solution can speed compliance, shorten time to completion, ease communications processes and reduce agency staff stress. A modest investment in e-Discovery technology is a sustainable approach to the problem that saves money in the long run while improving FOIA processes so agencies can meet requests.