Generative AI is set to transform crisis management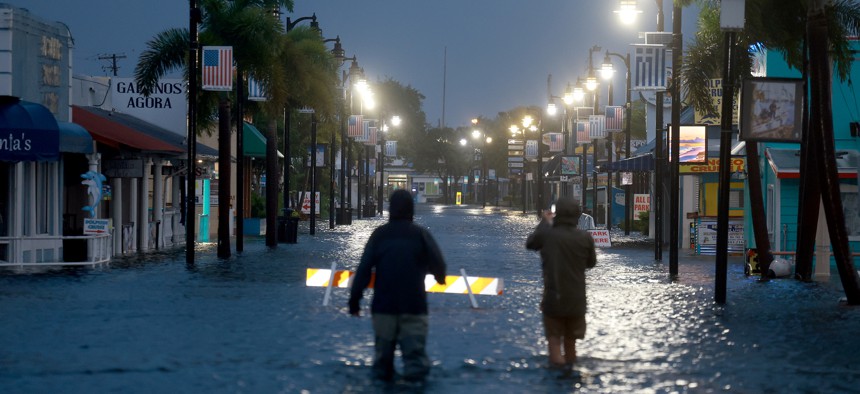 COMMENTARY | The emerging technology's versatility offers a wide variety of promising applications in disaster relief, and opens up facing real time analyses with tangible applications in the real world.
In November, U.S. emergency managers will address – for the first time - using AI to improve national emergency preparedness and response systems during their annual conference.  
Generative AI presents transformative potential, especially in disaster preparedness and response, and recovery. As billion-dollar disasters become more frequent – "billion-dollar disasters" typically costing the U.S. roughly $120 billion each - and "polycrises", or multiple crises at once proliferate (e.g. hurricanes combined with cyber disruptions), the significant impact that Generative AI can have, especially with proper leadership focus, is a focal point of interest.
Generative AI's speed is crucial in emergencies, as it enhances information access, decision-making capabilities, and early warning systems. Beyond organizational benefits for those who adopt Generative AI, its applications include real-time data analysis, scenario simulations, sentiment analysis, and simplifying complex information access. Generative AI's versatility offers a wide variety of promising applications in disaster relief, and opens up facing real time analyses with tangible applications in the real world. 
Early warning systems and sentiment analysis: Generative AI excels in early warning systems and sentiment analysis, by scanning accurate real-time data and response clusters. By enabling connections between disparate systems, Generative AI holds the potential to provide more accurate early warnings. Integrated with traditional and social media, Generative AI can also offer precise sentiment analysis, empowering leaders to understand public sentiment, detect bad actors, identify misinformation, and tailor communications for accurate information dissemination.
Scenario simulations: Generative AI holds the potential to enhance catastrophe modeling for better crisis assessment and resource allocation. It creates simulations for emergency planners, improving modeling for various disasters (e.g., hurricanes, floods, wildfires) using historical data such as location, community impact, and financial consequence. Often, simulators perform work "so large that it exceeds human capacity (for example, finding flooded or unusable roads across a large area after a hurricane)." 
Real-time coaching and training: Generative AI can assist in training responders and reduce surge costs during large disasters. In particularly large disasters, government call centers are often swamped with hundreds of thousands of disaster survivors seeking information. Generative AI can listen to the government call center conversations, and prompt staff to offer contextually relevant information, as well as offering instructions for new practitioners on a range of topics.
Support community goodwill efforts: In times of crisis, Generative AI can provide real-time information, basic first aid, and health knowledge to affected communities. By helping locate highly impacted areas, and disseminating health/safety knowledge, Generative AI can meaningfully amplify community goodwill in a time when they need to prepare, respond, and rebuild. 
Decision support systems: During a crisis, AI-powered systems can analyze data sources to create informed recommendations on evacuation, resource allocation, and personalized community engagement. Generative AI, with access to real-time weather data, population characteristics (especially social vulnerability), and infrastructure statistics, has the potential to assist individuals displaced by disasters by suggesting shelter, resources, and personalized communication channels to disseminate vital information. 
Post-crisis analysis: Generative AI holds the potential to evaluate response effectiveness and refine emergency management protocols. By analyzing response times, resource allocation, and evacuation plans, leaders can identify ways to improve and refine future crisis management strategies.
Emergency managers view disasters as recurring events with four phases that constitute the "disaster cycle": Mitigation, Preparedness, Response, and Recovery. Gen AI has the potential to accelerate preparedness and recovery by expediting decision support, real-time coaching, and administrative functions. These interventions can help responders mitigate the impact of complex emergencies and enabling quicker and more resilient community recovery.
Ben Ellencweig is a senior partner at McKinsey and Company and leads QuantumBlack, AI by McKinsey. Mihir Mysore and Jon Spaner are partners who lead McKinsey's work on crisis response.
NEXT STORY: AI disinformation is a threat to elections