Solving government employee experience crisis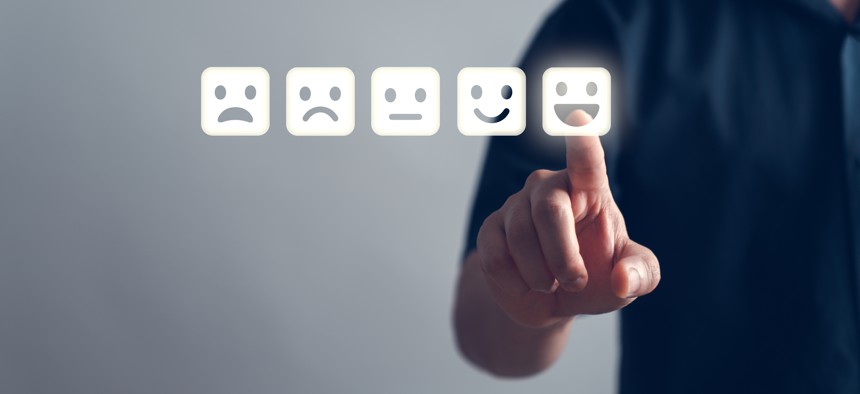 COMMENTARY | When equipped with leading-edge technology and supported by private sector partners who understand and value the government's mission, federal employees can better serve the citizens that depend on government service.
Amid a global workforce shortage, the government is struggling to recruit and retain the talent needed to deliver critical services to the American public. A plethora of federal initiatives, including the President's Management Agenda, recognize the urgent need to strengthen and empower the federal workforce.  
Dedicated public servants deserve the best possible tools and resources to effectively do their jobs. When equipped with leading-edge technology and supported by private sector partners who understand and value the government's mission, federal employees can better serve the citizens that depend on government service. 
The link between CX and EX
When tangible enhancements to both employee experience and citizen experience are realized, the total experience of government interactions and engagements will exponentially improve. In fact, a 2021 survey found that organizations with strong EX were 2.4x more likely to delight customers and 5.1x more likely to retain employees.  
IT modernization offers a multitude of benefits for streamlining cumbersome administrative processes and elevating the overall employee experience throughout the federal workforce. By equipping employees with cutting-edge technology and enhancing user-friendliness in government services, technology can play a pivotal role in boosting productivity, satisfaction, and public trust.
Embracing leading-edge technologies like data management platforms, cybersecurity tools, and automation can optimize a government agency's efficiency, thus enhancing citizen experience ​​— a crucial objective mandated by the current administration. Nevertheless, several obstacles, such as limited resources and staffing, may hinder the successful implementation of IT initiatives.
For resource-constrained agencies, investments in IT modernization must be worth the cost, time, and labor required upfront. To maximize the efficacy and results of adopting new technology, agencies need to strategically navigate and account for change management, disruptions to daily operations, and long-term goals. It's imperative to ensure operational excellence among government agencies so federal workers can deliver mission-critical services to the American people.
Strategic IT investments can improve productivity 
Data management is one of the most valuable investments for a short-staffed agency because it empowers the existing staff to do more with less. Gartner recently reported that poor data quality costs organizations an average of $12.9 million annually. The report states that "apart from the immediate impact on revenue, over the long-term, poor-quality data increases the complexity of data ecosystems and leads to poor decision-making."
When information is organized, secured, and analyzed to produce actionable insights, employees can rapidly address those insights into the programs supporting the mission. Consolidating data from multiple systems through the use of data streaming capabilities builds a single source of truth for analytical systems. In addition, agencies can avoid data branching and silos, which can cause issues with data availability, quality and hygiene. These improved data management platforms can be a significant time-saver for government organizations seeking to expedite operations and improve customer service
Real-time data offers additional insight and helps government employees better identify and respond to trends because it delivers accurate, timely, and actionable information. For instance, when health records are digitized and analyzed, federal healthcare providers can more easily and precisely diagnose and treat patients. Immediate, functional data insights in the hands of trained government employees can be priceless for agencies that provide critical services such as healthcare, housing, and emergency response. 
Similarly, implementing intuitive cybersecurity tools can help reduce the current burden on government employees. With over 40,000 cybersecurity positions to fill across the public sector, any solution that can help the existing workforce maximize their efficiency will be valuable. For instance, automatic threat detection or data recovery would go a long way for an agency with limited cybersecurity personnel. Cybersecurity capabilities that enrich user monitoring and reduce the risk posture of an agency should be strongly considered. However, the benefits of automation for a strained government workforce extend far beyond cybersecurity. 
Looking ahead
Automation and artificial intelligence are perhaps the most powerful types of IT modernization for reducing administrative burden and empowering the federal workforce. AI solutions can independently address straightforward citizen inquiries, saving federal employees time and enabling them to handle more complex requests. AI also has significant potential to advance omnichannel engagement, drastically improving CX and EX as the technology can seamlessly navigate disparate departments to connect citizens with relevant employees at the right time.  
Despite legitimate concerns about the potential risks of AI deployment in federal agencies, collaboration between private industry and government is essential to leverage this transformative technology for enhancing government services for citizens. The focus should be on both improving service quality and safety and security in all interactions. Clear, continual collaboration between private and public sector stakeholders will be key to successfully navigating the complexities of generative AI's use throughout government agencies. AI is one of many such areas where diverse perspectives and resource sharing are essential. 
The significance of long-lasting partnerships between government and private sector organizations cannot be overstated. To effectively assist federal agencies, private sector entities must fully embrace the government mission, providing exceptional service to the American people, particularly during critical times.
Regardless of the type of technology being implemented, it's paramount that the experiences of the employees and citizens who utilize the technology to give or receive service are understood and addressed to maximize the agency's return on investment.