Power Through Vulnerability: The New Chapter in Leadership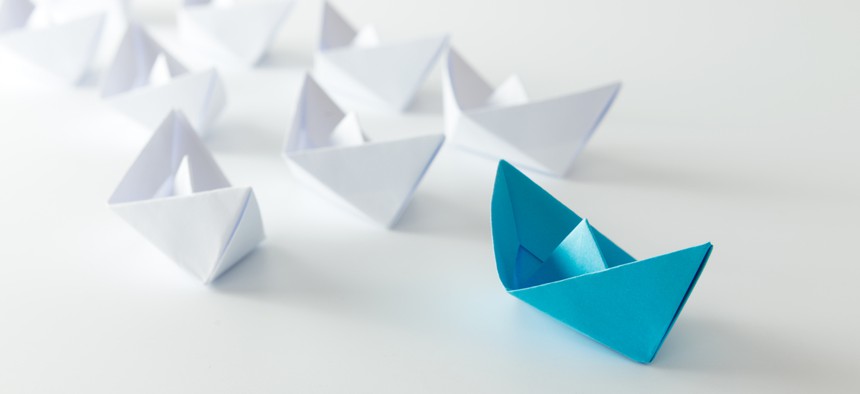 The buzz around DevOps is too often about tools that promise to increase speed, ease and security for cumbersome processes. The innovation is exciting and energizing, but the collaborative spirit of DevOps and underlying Agile philosophy are just as important. Without making cultural changes to how we work together, the government cannot achieve its ambitious transformation and modernization efforts.
At her 2010 TedTalk in Houston, Brené Brown popularized the idea that there are benefits to vulnerability. But knowing these benefits is much easier than the next step of opening up and making yourself vulnerable—especially at work.
What do leading with vulnerability and IT transformational efforts like DevOps have in common? Leading teams through complex, nonlinear change without knowing at the outset exactly what the process and tech outcomes will be is an intimidating mission. Vulnerability, for a technical leader, is about getting more comfortable with technical and process uncertainty, and allowing people and the organization to learn and apply new methods on the job. 
You may have been trained to hide your flaws at work—an approach that's worth unlearning.  Leading organizational innovation requires vulnerability from all involved, but most importantly, it requires leaders to create a safe space to work through real technical, process and workforce solutions. Leaders must build psychological safety in their organizations to enable innovation. Clearly stating "we'll figure this out together, because none of us can do it alone" is a good start, and highlighting the benefits the organization has gained in learning from small failures also helps the team feel empowered to test new approaches. Developing psychological safety builds unparalleled trust with and between your team members. This kind of trust gets people to show up with dedication to every project, and the willingness to try something new.  
Some IT leaders are taking the leap and seeing positive results. They're showing vulnerability by openly sharing their concerns about themselves and their limitations. There are three main benefits they're all seeing from this change in their approach:
Faster progress on projects. Leading with vulnerability encourages others to be vulnerable as well. The faster you get real about the challenges you're facing and the possibility of failure, the faster you can start solving the problem.
Development of more accurate, less costly solutions. Vulnerability also means the lack of false confidence that your solution is the only right one. This creates the space to try different approaches and encourages people to show up with their best ideas. 
Less revision and rework. Being truly open to the idea that others might have something valuable to offer makes your team more likely to find the best fit for your particular problem. This saves time spent revising or reworking a mediocre product late in the process.
When we lead with a single, unwavering vision of an expected outcome, we miss opportunities to find or create a better solution along the way. There is currently a tremendous number of technical opportunities in front of government offices, including cloud migration, use of agile and DevOps methods, to name a few. Leading an organization through these changes requires leaders and their teams to learn how to apply new technologies and methods on the job, to become comfortable with making the small mistakes associated with trying new things, and to understand that the process of leaning into these new methods will produce the big successes they want to accomplish. Once the "perfection or nothing" veil drops, we can move past those insecurities and effectively address the real opportunities.   
Robin Camarote is an expert in communications and organizational change management at Wheelhouse Group.
Brian Fox is currently a management consultant supporting the U.S. government.  He has led software development activity in support of geospatial data, products and services for the U.S. government, implementing agile, DevOps, and cloud adoption in the process. Brian also supported the intelligence community in a variety of roles, including joint military assignments in the United States and overseas.