Here's a Different Way the Government Could Clean Up Its Data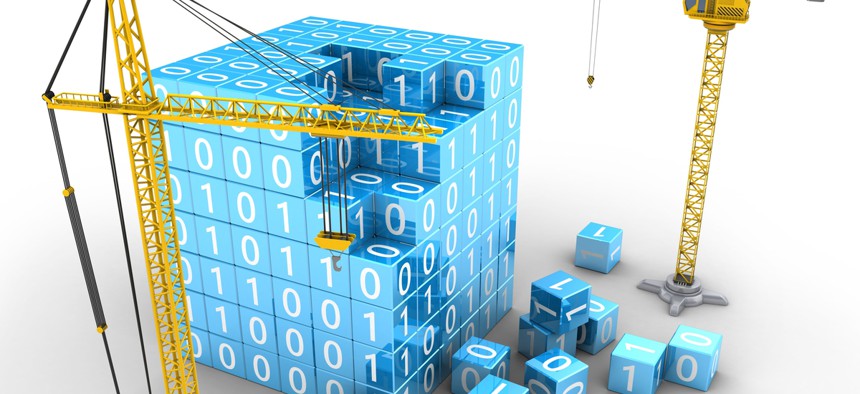 Maybe there's a better way for agencies to get good data that doesn't involve cleaning it up themselves.
As Nextgov reported recently, the federal government spends upward of $100 billion on information technology each year. The General Services Administration partnered with the Office of Management and Budget and has released a request for information regarding "software solutions that can efficiently aggregate and analyze data across the federal enterprise," with a goal of giving government leaders and buyers a better understanding of how that money is being spent.
Let me offer an alternative approach. The information in the Federal Procurement Data System has long been viewed as ... what word shall I use? "Unreliable?" "Useless?" Agencies are always behind in entering information updates. Data entry and integrity are left to low-level clerks. Information is input from hundreds or perhaps thousands of buying centers from around the country and the world. Contractor company names are entered with different spellings and acronyms and abbreviations. FPDS was often used—even by senior procurement executives—as a prime example of "garbage in, garbage out." My days in government are long past, so these observations may be dated. But I would still argue that this matter is as much a data integrity and data quality/timeliness issue as it is a data aggregation/data analysis issue.
In my checkered post-government career, I headed INPUT (now Deltek). We used government data (from FPDS and other sources) as the foundation for our own systems and reports. But we put hundreds or, in some cases, thousands of staff hours into cleaning, checking, and validating that data before aggregating or analyzing it. At one point, we explored the option of developing a product line for government. We produced reports for chief information offices, chief acquisition offices and others that showed them how much they were spending, what were they spending it on, who they were buying from, what contract vehicles they were using to buy, and so on. They were astounded by the information. They hadn't seen anything like it before. They found it useful and insightful. But they didn't want to pay for it. Or perhaps they didn't want to admit that while they were sitting on a treasure trove of data they hadn't been able to utilize it to improve business operations.
Deltek has acquired several other companies besides INPUT over the years. And new firms with powerful data analytics tools have entered the market, firms like Bloomberg and Govini. So rather than buy software and tools, I suggest GSA and OMB buy products and reports where they can prescribe periodicity, coverage, ongoing versus special data runs, and so on. The key role of government should be to become a smarter and better buyer, not to become a data analytics firm. What say you?
Alan P. Balutis is a senior director and distinguished fellow at Cisco Systems, Inc.'s U.S. public sector.