Subscription-Based IT is Coming—And That's A Good Thing For Federal Agencies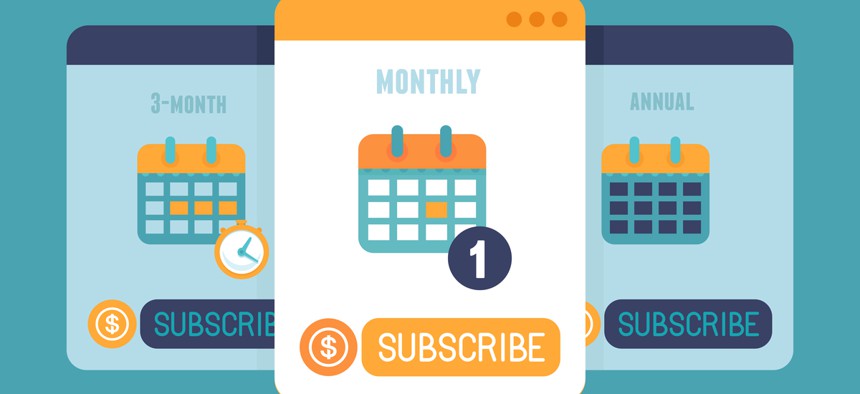 The trend should help agencies address many of the IT challenges they confront.
The tech landscape is undergoing a process evolution that is already being felt at many federal agencies. It concerns the manner in which technology is acquired by enterprise customers—specifically, the shift toward subscription licensing models.
Many companies—including Infoblox, Avue, Brocade, Adobe, Informatica, TIBCO, BMC and Compuware—are already offering or transitioning to subscription-based pricing and cloud deployment models.
This trend—driven by the need for greater pricing predictability, transparency, and flexibility—is certain to impact how federal managers plan for, finance, acquire and consume technology. The IT analyst firm Gartner predicts that by 2020 more than 80 percent of software vendors will migrate from traditional license and maintenance to subscription pricing.
The growth in recent years of cloud-based services, open-source applications, and self-service IT tools has conditioned both IT providers and enterprise consumers to see value in applying subscription pricing models to a wider spectrum of IT services and capabilities. Federal policy-makers have highlighted this trend in the June 2016, the Office of Management and Budget publication," Category Management Policy 16-1: Improving the Acquisition and Management of Common Information Technology: Software Licensing," directing agencies to begin reporting on their subscription-based software licensing.
The shift toward subscription pricing should help agencies address many of the IT challenges they confront. These include:
Budget pressures and uncertainty. With a subscription-based IT service, expenses and costs are more transparent, predictable, and stable. When agencies have a clearer picture of their IT consumption and costs, they can tweak policies to drive efficiencies and create more transparent charge-back mechanisms.
The increasing imbalance between development, modernization and enhancement (DME) funds and operations and maintenance funds. With a subscription model, agencies can deploy capability with zero or minimal initial cost and plan with a more predictable spending forecast for their IT services. Outlays for IT services generally come out of the operations and maintenance portions of the budget, which are relatively more stable, not DME.
Agencies' needs to scale their IT needs up and down to accommodate seasonal, periodic or unexpected fluctuations in workload. A great benefit of a subscription model is that it realigns IT spending and capability more closely to actual usage. No longer must agencies pay for underutilized capability—for example, to accommodate special programs or periodic peak workloads. Subscription-based IT capability scales up or down as needed. Likewise, customers have the flexibility to add capabilities or remove them from their IT services so they are more tailored to their actual needs.
Lagging technology refresh cycles that leave federal IT outdated and at risk of security intrusions. Technology under a subscription model is always current; agencies no longer would need to worry about end-of-support or end-of-life (EOS/EOL) assets on their networks that are magnets for cyberattacks. There is no more need for disruptive and expensive technology refresh cycles.
As subscription-based software licensing gains steam, its positive impact should be felt within budget, finance, procurement and program divisions. Approaching IT as a consumption-based utility, as opposed to a large capital investment, will bring greater transparency and clarity to IT consumption costs and assist agencies more effectively address today's budget and technology uncertainties.
Pete Tseronis is the chief executive officer of Dots and Bridges and the former chief technology officer of the Energy Department.