Here Are the Agencies That Let Their Scientists Speak (and Tweet) Freely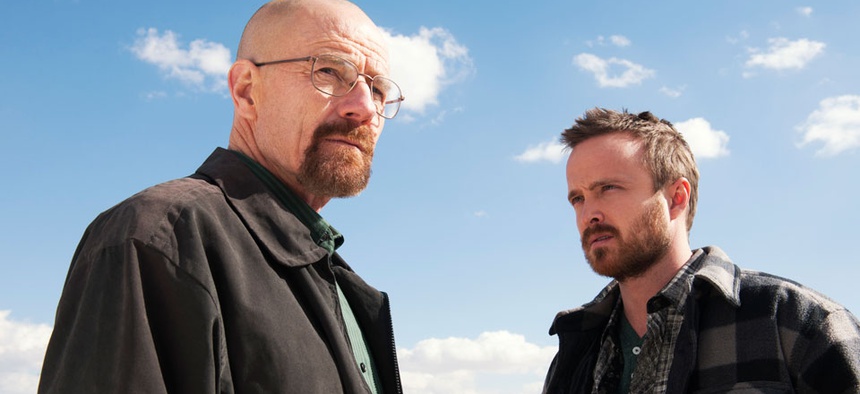 Science is awesome.
It's a fact, and if you don't believe me, check out NASA's imagery, the Interior Department's amazing Instagram account or the Defense Advanced Research Projects Agency's futuristic efforts. Or just binge watch "Breaking Bad" like the rest of us and learn the importance chemistry plays in people's daily lives: Yeah, science!
And because science is awesome, science practitioners -- also known as scientists -- possess intrinsic value to the American public and decision-makers. As scientists, their research, knowledge and opinions matter. Would you rather listen to biased politicians and nonscientists dissect key issues like global warming, or would you rather listen to thousands of trained scientists at NASA who unanimously agree on factual data?
It's not always easy for scientists to share their viewpoints and speak freely on issues, though. Scientists who publicly do so frequently face backlash. Examples abound: Religious folks got mad when astrophysicist Neil DeGrasse Tyson's TV show didn't give equal airtime to creationism, and Bill Nye took heat after dominating a televised debate with creationist Ken Ham.
Scientists in government have additional problems: The things they say, post to Facebook or tweet has an effect on the agency they are employed by, and agencies haven't always let their scientists speak freely. For decades, science was censored, constrained or watered down by agency communications teams.
We know this because groups like the nonprofit Union of Concerned Scientists share what scientists say about science, likening scientists' freedom to express opinions to the general public's First Amendment rights.
In 2008, UCS reviewed 15 agencies' media policies and practices and found major differences -- and quite frankly, major problems – among how agencies approached transparency in science. That report helped bolster a marked improvement in those agencies' grades five years later, when UCS followed up on their efforts and added a social media policy rubric to the mix.
Mercifully, progress in scientific transparency has continued. UCS' latest report, released this month, indicates scientists at the major scientific agencies generally have more freedom to voice opinions than ever before.
Of 17 agencies reviewed, only the Energy Department lacked a media policy. On the other end of the spectrum, the National Oceanic and Atmospheric Administration, National Science Foundation, Environmental Protection Agency and the U.S. Centers for Disease Control and Prevention earned "A" grades.
The stalwart agencies in social media policy were the U.S. Geological Survey, the National Institutes of Health and the Fish and Wildlife Service. The only abject failure in social media policy was the Food and Drug Administration, so shame the agency mercilessly until it publishes social media policy standards and guidance its scientists can fall back on. Still, in 2013, five agencies lacked the same policies.
"Progress has continued since the 2013 report, with a majority of agency policies now including key provisions such as the right to state personal views, whistle-blower provisions, and a dispute resolution process," the report states. "On the social media front, where five agencies in the 2013 analysis had no social media policy at all, that number in the 2015 report has shrunk to just one."
Speaking at a Washington, D.C., event Thursday, one of the report's authors said she was "wonderfully surprised" about the government's progress in recent years. Though, she noted there is still significant room for improvement.
"Since we redid the report, we saw even more improvement," said Gretchen Goldman, lead analyst for the Center for Science and Democracy. "Our main priority is making sure those policies now are fully implemented."
Most agencies, she said, don't give scientists last review or access to revisions and drafts, meaning those scientists may not get the last word on their own work. Social media policies have improved since 2013 as well, with many agencies adopting provisions that, for example, allow scientists to name their agency in their Twitter bio. This is usually accompanied by a disclaimer that the scientist's views do not represent the views of his or her agency, and so forth.
Creating social media policies that empower and educate scientists is an exercise in both common sense and culture change, said Scott Horvath, social media lead for USGS.
"We can write guidelines and policies about being open and transparent, but it's always a cultural change that is hard for employees," Horvath said.
USGS scored top marks in this year's UCS social media policy rubric. One of the key reasons, Horvath said, is that the agency meticulously generates policy but can adjust it on the fly.
In one instance, Horvath and his team made social media policy changes less than 24 hours after feedback. With policies in place, Horvath only recalled a few instances where tweets from USGS scientists resulted in a conversation with the ethics office.
The Interior Department's Tim Fullerton noted few similar instances at his agency. Despite having tens of thousands of employees and a tendency to "push back" publicly on issues like climate denial, Fullerton said scientists rarely get off track with their tweets.
Sometimes, he said, the best advice is also the simplest.
"We do tell people, 'There are trolls, don't feed the trolls,'" Fullerton said, generating a laugh.
Yet, Fullerton's closing remarks summed up why scientists should be able to speak freely about scientific issues in the media or on social media: Everyone else already is.
"People will have those conversations whether you are there or not," Fullerton said. "It's our job to be there. We have to be in those conversations because if we are not, [people and decision-makers] are not going to be getting the right information."