If You're Anonymously Editing Wikipedia from Capitol Hill, Everyone Will Know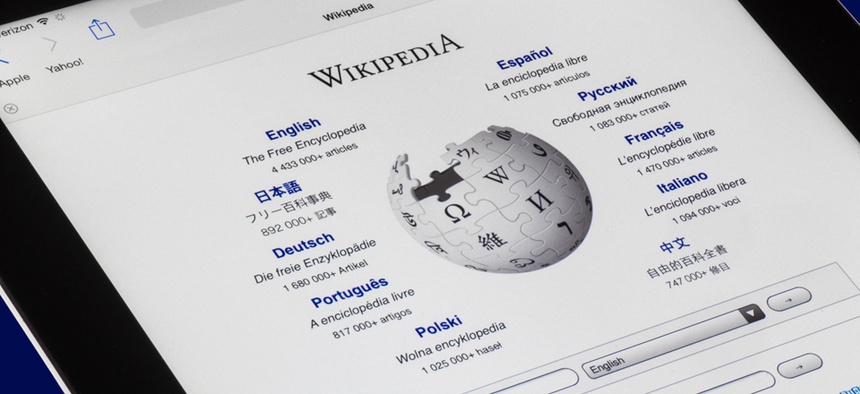 There are socially acceptable ways to edit Wikipedia; anonymously from congressional offices is not among them.
Although Capitol Hill Wikipedia readers might have gotten away with the odd anonymous edit before last week, those changes are now tracked by @Congressedits, a self-described "bot that tweets anonymous Wikipedia edits that are made from IP addresses in the U.S. Congress."
The crowd-edited Internet encyclopedia is not a mouthpiece for your boss' political message, the reasoning goes, so even though just about anyone who reads the site can edit it, there are plenty of situations where you probably shouldn't, including when you have any undisclosed conflict of interest.
(Definitely look at this Nextgov story from earlier this year: Should You Edit Your Agency's Wikipedia Page? Probably Not)
In many cases, people have well-intentioned urges to edit their own Wikipedia entry (because they're famous) or that of their boss or even a complete stranger. For instance, just a few minutes ago, a grammatically correct apostrophe was anonymously added to the Wikipedia entry for Rep. Rob Bishop, R-Utah, by someone on Capitol Hill. That wasn't the best way to go about it.
The e-encyclopedia's most prolific editors cultivate a culture of full disclosure, Jay Walsh, communications lead for the Wikimedia Foundation, explained to my Emerging Tech blog predecessor, Joseph Marks, earlier this year.
"Most Wikipedians prefer that people don't get involved in topics with which they're professionally connected," Walsh said. "That being said, there are a lot of hard working Wikipedians who work in an industry, and they may edit that topic to make sure it's accurate. That involves a high level of disclosure. They'll say I work in this department, so I want to make clear there's a substantial conflict, but I'm fixing an error."
This matters for apostrophes because even if the slope isn't actually slippery for you, there is a perceived potential for fast decline on moist grass that is not level, and suddenly you're inserting your politics into other entries or trying to rewrite history.
A great thing about @Congressedits, though, is that most of the changes it tweets appear utterly innocuous, but you can't help trying to find the angle. For instance, which Hill staffer anonymously added Beethoven and Bon Jovi to a list of musicians featured throughout the years on the TV show "It's Always Sunny in Philadelphia"? And why'd they do it?!
According to its first tweet last week, @Congressedits was inspired by @Parliamentedits. The British site's creator, Tom Scott, over the weekend became suspicious about the lack of anonymous edits from the British Parliament and now has a freedom of information request pending about whether the U.K. lawmakers' IP addresses have changed.
The U.S. and British sites quickly inspired others, including an Australian version, a Chilean one, a German one and the possibility of an Italian one, to name just a few. Another one tracks pharmaceutical companies.
@Congress was created by Ed Summers, a software developer who last week saw the British version's launch retweeted.
 "The simplicity of combining Wikipedia and Twitter in this way immediately struck me as a potentially useful transparency tool," Summers wrote on his blog. "So using my experience on a previous side project, I quickly put together a short program that listens to all major language Wikipedias for anonymous edits from Congressional IP address ranges (thanks Josh) … and tweets them."
(Image via littleny / Shutterstock.com)