Congress is 'in learning mode' about AI, lawmakers say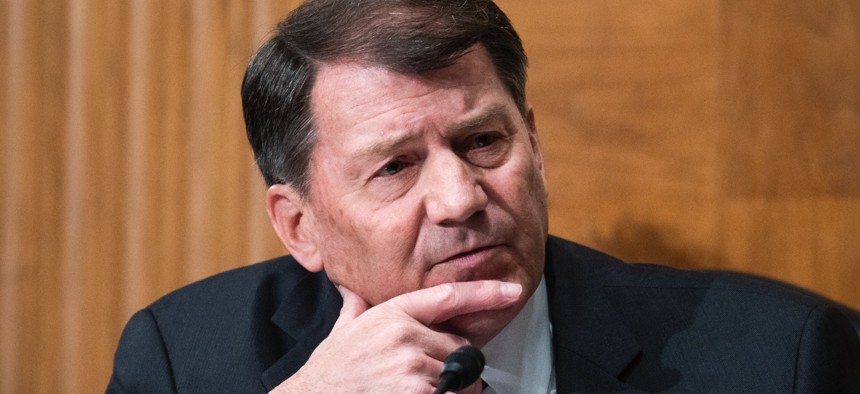 Rep. Ted Lieu, D-Calif. and Sen. Mike Rounds, R-S.D., do not share many of the same political views, but both are committed to learning as much as they can — and educating their fellow colleagues — on artificial intelligence before attempting to craft legislation to significantly regulate it.
"I think many of us, we're still in learning mode, we're just trying to get information," said Lieu, vice-chair of the House Democratic Caucus and one of the few lawmakers who holds a computer science degree. "If you write an act of Congress and it's wrong, you need another act to correct that, so we want to be careful about how we proceed."
Lieu spoke alongside Rounds Wednesday in a panel conversation at Amazon Web Services' Washington, D.C. Summit, along with AWS vice president of AI and Machine Learning Bratin Saha, AWS Head of Congressional Affairs Olivia Igbokwe and Kathleen Featheringham, vice president of AI and Machine Learning at Maximus.
Rounds, who co-chairs the Senate AI Caucus, said the Senate will soon hold three informational meetings to educate senators. Two of the meetings will be private — away from cameras and reporters so senators can be frank — and one in a classified setting to discuss the U.S. government's capabilities and those of adversaries. 
Rounds said one priority is "setting up and discussing responsibility on a committee-by-committee basis," since AI affects everything from agriculture and health care to defense, law enforcement and the financial sector.
"We have to figure out who takes the lead in the Senate and House in laying out different ideas, assembling them and putting in legislation," Rounds said. "And how do you do that so that we promote AI's use in our country and at the same time, protect those areas that citizens are expecting us to protect. How do we go about doing that?"
Congress' AI education tour comes as the technology is having very real impacts on various industries. Saha referenced several customers currently using AWS' AI solutions, including the Department of Veterans Affairs, which uses generative AI to "make it easier for beneficiaries to see what benefits they are eligible for."
"We're seeing customers using it across the board in the public and private sector," Saha said.
Saha added that AI advancement in recent years is significantly outpacing Moore's Law, which states that the number of transistors in an integrated circuit doubles every two years — effectively doubling computing power every 24 months. AI systems have been doubling their compute "every three and a half months," Saha said, or "six times the speed IT has been growing at."
Featheringham acknowledged the hype around AI but said her company, which performs work for public sector customers, seeks out where AI might address mission problems they're dealing with.
"Not every case requires AI or should be ready for it yet, but we should be looking for how and where it is most appropriate," she said, adding that AI can free up time for employees to utilize their creativity by taking over certain rote tasks.
Lieu, who was the first lawmaker to use AI to generate a piece of legislation back in February, acknowledged the disruption ahead and compared it to past eras of innovation.
"As a legislator, I'm less concerned about all their amazing uses and more concerned about its disruptive effects on society," he said. "My analogy to this is kind of like the steam engine, which was disruptive when it was invented. But in a few years, AI is going to be like a supersonic jet engine with a personality and I think we need to be prepared for it."