Boston Dynamics Is Going to Start Selling its Creepy Robots in 2019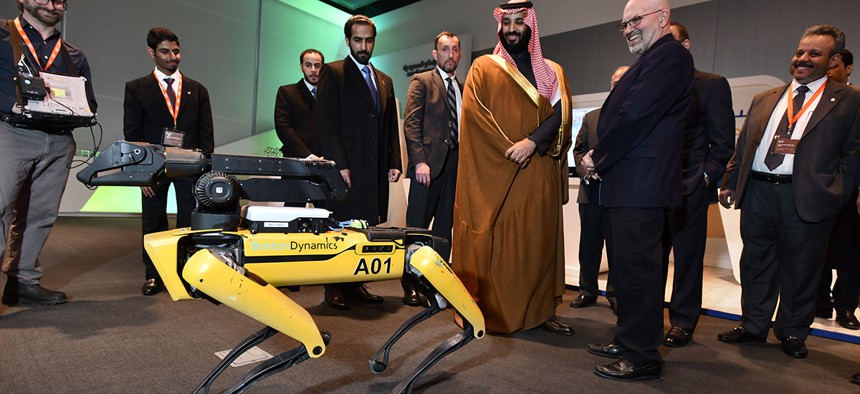 The robot apocalypse has been tentatively scheduled for late 2019.
Boston Dynamics, the SoftBank-owned robotics firm (that was once Alphabet's headache), will begin to commercialize its research next year. Marc Raibert, the company's founder, announced onstage at a TechCrunch robotics conference May 11 that Boston Dynamics will begin selling its dog-shaped robot, SpotMini, in 2019. It'll build about 100 robots over the next year, and is currently in the process of contracting manufacturers.
The robot, which the company has been developing for the last couple years, is the smaller brother of Spot, a robot Boston Dynamics' researchers have been kicking since 2015. SpotMini weighs about 66 pounds and has a battery life of about 90 minutes, according to the company's website. There's no information on how much the bots will cost, yet.
Spot Mini has arrived #TCRobotics pic.twitter.com/IiugHH2U5X

— TechCrunch (@TechCrunch) May 11, 2018
The company demonstrated the robot, replete with a creepy robot arm that sits atop its body, onstage at the conference. Yesterday, Boston Dynamics showed off its human-shaped Atlas robot, which it has previously shown preforming gymnastic feats most humans can't, running through the fields near its headquarters like a seasoned marathoner. It's a massive step forward from the drunken meandering it could manage just a few years ago.
Boston Dynamics also released a video yesterday of a SpotMini autonomously patrolling its office. Most videos the company has posted in the past have shown one of its robots being operated remotely by a human, but now it seems they're advanced enough to move through our world on their own. It's easy to see how a robot like this could be used in office security, or trained to hunt and kill us. (Oh wait, that was Black Mirror.)
As Boston Dynamics builds more of these robots and releases them beyond its offices, we can only hope that the years of abuse these robots' brethren have endured is not stored in their memory banks.