Be Funny and Other Tips from TSA's Social Media Team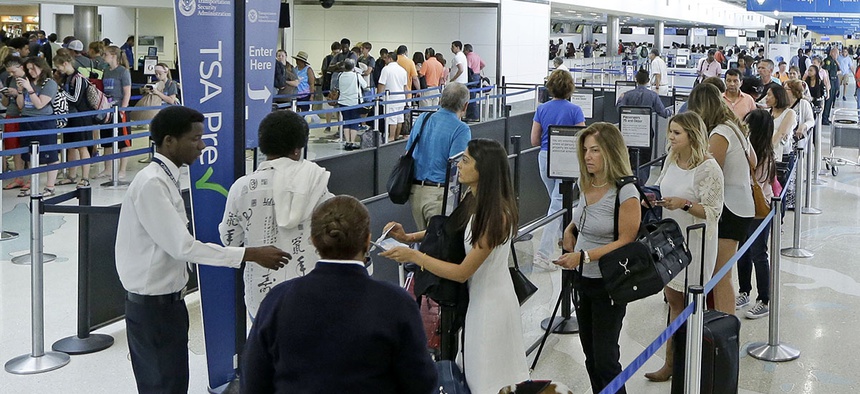 Federal agencies are incorporating social media into their customer service.
A large chunk of the Transportation Security Administration's work happens online, before travelers reach the X-ray machines and bag scanners.
Every day, the @AskTSA account fields hundreds of questions and concerns on Twitter and Facebook Messenger from soon-to-be travelers who often send pictures of items and asking if they'll be able to travel with them.
The AskTSA program, which attempts to respond to travelers in real time, is the brainchild of Jennifer Plozai, director of external communications within TSA's Office of Strategic Communications and Public Affairs. The Twitter account, which has now amassed about 30,000 followers, launched in 2015, and Plozai's team of 10 people tries to respond to each message.
Plozai's advice for federal agencies thinking of using social media? Ditch the stodgy and formal language. Speaking at an event hosted by Government Executive and Nextgov, Plozai and panelists Nat Wood, the Federal Trade Commission's associate director for consumer and business education, and Peter Gautier, director of governmental and public affairs at the Coast Guard, shared tips for using social media to build a trustworthy brand.
"We want to be very candid, we want to use humor," Plozai said. "If someone is joking with us, we want to joke back with them."
Here are a few of their other tips:
Social media platforms aren't just for brand building.
They can also help expedite troubleshooting. At TSA, Plozai's team in D.C. can alert specific security teams at U.S. airports if a traveler thinks they've left something behind in one of the X-ray bins. If a traveler with Precheck finds that their boarding pass does not include a Precheck designation, TSA can alert the airline and ask its staff to update the passenger's profile, Plozai said. Those are just a few of the new services AskTSA offers in response to complaints on social media. "When somebody comes to us, we're not messaging for TSA. We're not there to tell you TSA's great. We're there to help you with your issue," she said.
When appropriate, be funny.  
"If you tweet to us, and say 'Can I bring a nail clipper with me in my carry-on,' you might get a response back to say, 'Yes this is good to go in your carry-on,' and you might also get a gif of one of our TSA dogs shaking their head, 'Yes.' We just want to be more engaging."
Use the data from social media interactions to improve your services.
Identitytheft.gov, an FTC program designed to gather information about incidents of fraud and to help victims recover once their information is stolen, analyzes comments on social media platforms to find threats they should crack down on. If a social media user reports that they're an identity theft victim, the FTC then sends a personalized recovery plan based on what that specific user said happened, Wood said.
Sketch out what kind of voice and tone you want your agency to have.  
This guides employees at local levels to post messages that maintain the overall brand. Though the Coast Guard has only recently explored using social media for public communication, "we provide messages down that we'd like to have amplified to the field," Gautier said. At the Coast Guard, they're still figuring out the best way to "empower [field officers] to be setting forth the message that they think is important for local constituencies."
Be nimble.
During the Coast Guard's response to Hurricane Harvey, victims in Texas overwhelmed 911 call centers and instead started calling the Coast Guard's federal headquarters. In response, the Coast Guard set up an ad-hoc call center in Washington. The call center also had a "social media cell" that was monitoring where all the distress calls were coming from, to better assess where physical response should be directed.