Intel's $15 Billion Bet That Its Future Lies in Self-Driving Cars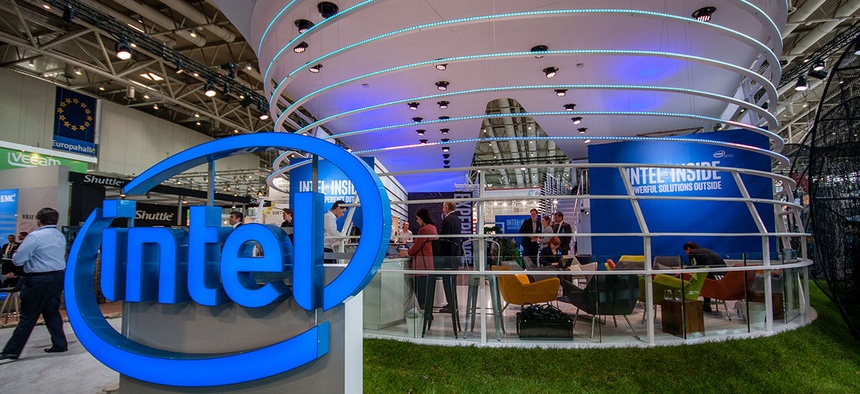 Intel plans to purchase Mobileye, an Israeli-based company that builds vision systems for cars, for roughly $15 billion. The computer-chip giant says it will buy the outstanding shares of Mobileye for $63.54, a 34 percent bump on Friday's closing price, according to The Wall Street Journal.
Mobileye, founded in 1999 to create systems that would help cars detect other vehicles on the road using regular cameras and custom-built processors. It's developed a range of warning technologies found in many car companies' vehicles, including systems to warn when vehicles are drifting out of their lanes, ones to help prevent head-on collisions, and adaptive cruise control.
In recent years, the company has been working on developing technology for autonomous cars. While many of its competitors use expensive laser-scanning systems, called LiDAR, Mobileye intends to build a system that relies on standard cameras and radars. LiDAR systems have proven so popular that manufacturers are actually unable to keep up with demand.
But given that they can cost tens of thousands of dollars, a dependable system that just relies on far less expensive cameras and radars would be of great interest to automakers aiming to sell self-driving cars to the average consumer.
Mobileye had been working with Tesla to develop the semi-autonomous "Autopilot" function designed to allow Teslas to essentially drive themselves while drivers stay attentive and with their hands on the wheel. After a deadly crash in Florida, Mobileye "expressed safety concerns regarding the use of Autopilot hands-free" and cut its ties with Tesla.
Although shares of Mobileye initially shot up roughly 30 percent Monday morning, the market didn't seem particularly enthused by Intel's plans, with its shares later dropping about 2 percent ($0.65).
The acquisition will allow Intel to merge its own work on autonomous technologies with Mobileye's, headquartering its research in Jerusalem, the two companies said in a joint release. Intel announced in January it had partnered with Mobileye and BMW to launch a fleet of self-driving cars in Europe and the U.S. later this year.
Intel has been a household name since the 1990s, when its Pentium line of processors were in just about every computer one could find, and its "Intel Inside" jingle was as recognizable as anything else on U.S. television. But the company struggled to see the industry's shift to mobile, and it's becoming increasingly difficult to continue its pace of innovation in the core chip-making business, as silicon chips can only get so small. Intel laid off 12,000 employees in 2016 as part of a restructuring that aims to ensure the company doesn't miss the next great shift.
Intel believes that—among other autonomous technologies like drones—self-driving cars are a platform that will fundamentally change the way the world operates, and it wants to be at the center of that change.
"Many of you have asked why we think autonomous cars and vehicles are so important to Intel's future. The answer is data," Intel CEO Brian Krzanich said in a letter to employees. "Our strategy is to make Intel the driving force of the data revolution across every technology and every industry. We are a data company. The businesses we focus on, and deliver solutions to, create, use and analyze massive amounts of data."
Self-driving vehicles are likely to be one of the most ubiquitous technologies over the next few years, with many manufacturers committing to launching autonomous ride-hailing services, and even consumer cars, by the end of the decade. And Intel wants to be at the heart of these machines, whether with the vision systems used to see the road, or with the processors making sense of all the information cars will be receiving.
"As you've heard me say, others predict the future," Krzanich said in his letter. "At Intel, we build it."