Documents Reveal Tesla Is Spending Nearly $1 Billion on Its Updated Gigafactory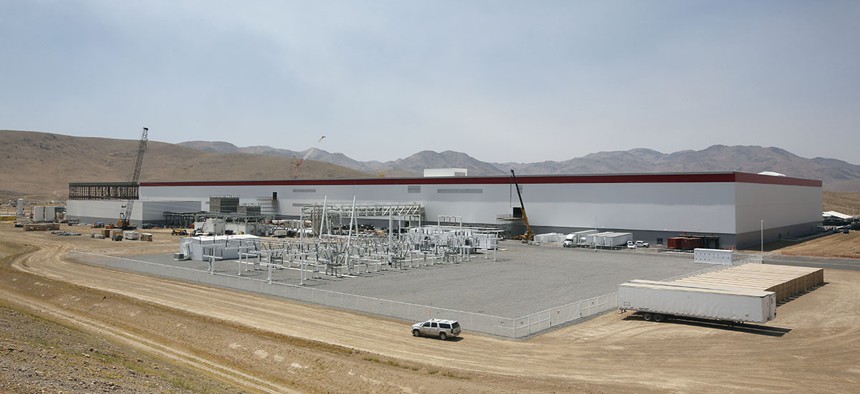 Tesla is showing no signs of slowing as it races to build the world's largest lithium-ion battery factory.
A joint-venture with Panasonic, its Gigafactory in the Nevada desert is key to Tesla CEO Elon Musk's vision of producing the cheapest, most powerful batteries, which will be used in its upcoming Model 3, a $35,000 electric vehicle.
The battery factory is slated to be the world's largest building, equivalent to 107 football fields once complete (no final date yet). BuildZoom, a site connecting construction contractors with homeowners, has been tracking Tesla's construction permits and reports that 29 supplemental change permits have been issued by Storey County covering $542.65 million in approved construction, about half the estimated construction costs to date.
The largest permit, issued in December for updated plans, covers work estimated at $404 million. Tesla has said it ultimately plans to spend upward of $5 billion to finish the Gigafactory.
In total, Storey County has issued 153 building permits for the Gigafactory since it broke ground in the summer of 2014. Most are for the installation of factory equipment, including a "nitrogen yard," thermal energy storage tank, and Panasonic equipment.
The changes are not public, says Jack Cookson, a research analyst at BuildZoom, and Tesla has not disclosed details about changes to its factory plans.
"It is hard to make comparisons to the Gigafactory because there is really nothing else like it," Cookson wrote by email.
Tesla is adopting an iterative, incremental approach to building the Gigafactory, so it can add improvements from previous phases of construction to new ones. So far, the factory is only about 30 percent completed.
Here's a timelapse showing the factory taking shape since 2016.