Chinese Government Unveils 'Security Robot' to Squelch Riots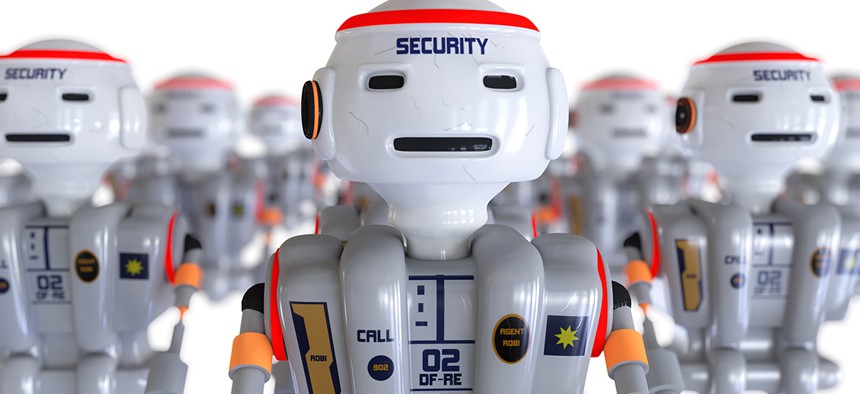 Commit a crime in the future in China—or heck, probably just have an "unlawful" gathering—and you might find yourself pursued by what looks like a giant salt shaker waving a cattle prod at your butt.
The "AnBot," which debuted to the world recently at a tech fair in Chongqing, is "China's first intelligent security robot," according to People's Daily. It was created by the National Defense University to carry out automatic security patrols and guard against terrorists and rioters. People have compared the thing's upright-warhead shape to a Dalek, though personally I think it resembles more of a "Fallout 4" Protectron.
China's 1st intelligent security robot debuts; can patrol autonomously, protect against riot https://t.co/QjjQr7qxhI pic.twitter.com/B45noU1bHJ

— People's Daily,China (@PDChina) April 26, 2016
The electric weapon is reportedly not part of the 'bot's autonomous protocols, requiring remote activation from a monitoring team. So the chances of somebody spilling a Coke on "AnBot" and causing it to go haywire, scooting around a shopping mall zapping everything in sight, are slim. Here's more fromShanghaiist about how it works:
If they try to flee from its cattle prod of justice, this little guy can also accelerate to a max speed of 18 km per hour. Though typically it will go on leisurely patrols at 1 km per hour for 8 hours before heading back to the station to recharge its batteries.

Additionally, its functions include: autonomous patrol, intelligent monitoring, emergency calls, auto recharging and it even has optional modules for environmental monitoring, biochemical detection and clearing explosives. Unfortunately, no mention of a module for stair-climbing.