NOAA Wants Feedback on Engagement with Commercial Satellite Industry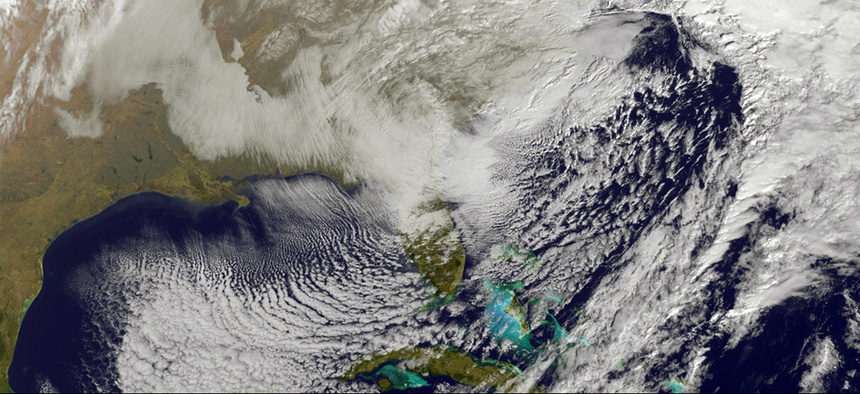 The National Oceanic and Atmospheric Administration continued its exploration of commercial satellite capabilities, with a notice seeking feedback for how its satellite arm – the National Environmental Satellite, Data and Information Services – could better interact with the commercial satellite industry.
Published April 8, the notice is NOAA's second step in pursuing potential commercial weather satellite capabilities and follows the January release of a commercial space policy. NOAA is in the middle of running two major next-generation weather satellite programs, the Geostationary Operational Environmental Satellite and Joint Polar Satellite System, collectively worth $20 billion.
Yet, Stephen Volz, assistant administrator for NOAA's satellite and information services, told Nextgov he envisions a future in weather forecasting where NOAA relies on "a mixture of government and commercial satellites."
The feedback now, he said, could help shape NOAA's future overarching policies toward the commercial satellite industry.
"We're hoping and expecting to get a lot of feedback," Volz said.
NOAA is specifically seeking comment around four key areas. They are:
What contractual or other mechanisms could NOAA use to work with commercial sector data providers beyond traditional acquisition approaches?
What steps should NOAA take to consider the long-term viability of a commercial data provider prior to an operational data purchase?
What are the key aspects of demonstration projects that allow the commercial sector to gain necessary insights?
What are the key aspects of demonstration projects that would allow NOAA to perform the necessary data validation for the continued success of NOAA's public safety mission?
Public comments must be received by May 9.