Federal Government Takes a Bet on Quantum Computing with New D-Wave Purchase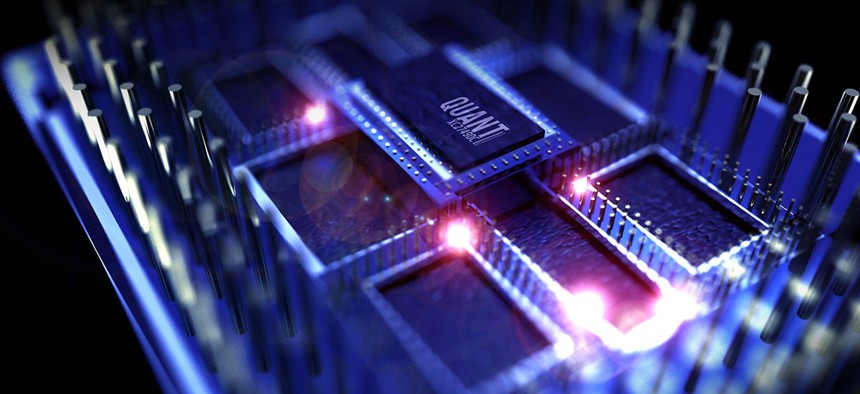 The Los Alamos National Laboratory is buying a "quantum computer," in part to figure out how to use it.
The Los Alamos National Laboratory is buying a new quantum computing processor from Canadian company D-Wave, the national security technology laboratory announced this week.
Los Alamos, which develops a wide variety of technology, including systems for monitoring nuclear stockpiles, will be the first federal entity to purchase a D-Wave system directly from the company, according to D-Wave president Bo Ewald.
In September, D-Wave announced plans to install a unit at NASA's Ames Research Center, part of a collaboration with Google to study how quantum computing could contribute to artificial intelligence technology. 
Initially, the laboratory plans to investigate how quantum processors, which use energized atomic particles known as "qubits" to process information instead of the 1s and 0s of traditional computing, can be applied to national security research, according to the lab. Los Alamos has purchased a system relying on more than 1,000 qubits. 
For D-Wave, which has sold only a handful of units in its history, Los Alamos' purchase suggests that quantum computing could find greater success in the public than the private sector. D-Wave does not share information about pricing, but reports have estimated that each unit costs several million dollars each. Nextgov has requested information about pricing from Los Alamos.
Quantum computing is largely in the research stage, Ewald said. All of D-Wave's customers have bought units for experimentation purposes, and are still trying to figure out how the processors can be used. So far, there are no "off-the-shelf" applications for D-Wave's systems. Ewald predicted that researchers will begin creating specific applications in two or three years. 
"The bulk of our customers will be in the U.S., and they will probably be U.S. government customers," Ewald told Nextgov. "The U.S. usually are the first adopters of high performance supercomputers. We'll find that we have a lot of customers who are in national laboratories, universities, defense. We're seeing that already."
In contrast, businesses are less likely to invest in early-stage experimental technology. "They need to be able to make money, and that requires more software tools and applications."
The Los Alamos announcement comes months after President Barack Obama issued an executive order creating the National Strategic Computing Initiative, which mandated federal agencies invest in, research and eventually deploy supercomputing and high-performance computing technology. 
"As conventional computers reach their limits in terms of scaling and performance per watt, we need to investigate new technologies to support our mission," Mark Anderson, a technologist at Los Alamos' Weapons Physics Directorate, said in a statement.
(Image via welcomia/Shutterstock.com)