By Infusing Government Services with Tech, Sweden Aims to Bolster Social Welfare and Democracy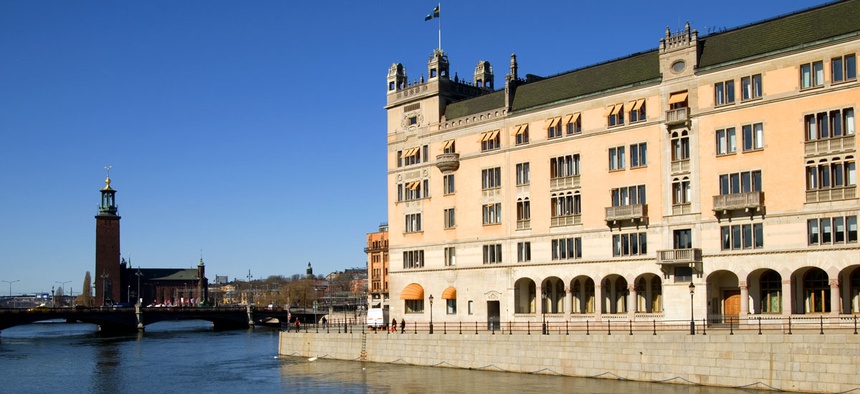 In Sweden, some taxpayers bypass the paperwork, instead authorizing their payment on their smartphones with a single click. When searching for jobs, citizens are directed to the iTunes or Google Play store and encouraged to download a job search app called Platsbanken, developed by the national employment agency. A nationwide program called SMSlivräddare -- SMSLifesaver -- sends citizen volunteers a text when someone nearby suffers a heart attack, so they can reach the victim and deliver CPR; they are faster than ambulances in 54 percent of cases, according to a United Nations report.
These are a few of many examples of government programs in Sweden, designed in recent years to better connect with citizens on the digital platforms and devices they already use, such as their smartphones.
Last year, the United Nation's bi-annual survey ranked Sweden's e-government development status 14th in the world. With about 9 million people, roughly 94 percent of Sweden's population are Internet users. Among the Nordic countries -- Sweden, Norway, Iceland, Denmark and Finland -- more than 80 percent of citizens use technology to connect with their government, according to the U.N. survey.
These governments "have a much stronger social commitment to direct citizen services" than the United States does, IDC analyst Alan Webber, who specializes in e-government, told Nextgov. In these countries, he said, citizens "look for the government to provide services for them that are not necessarily already available" in the private sector.
The Swedish eDelegation, tasked with leading interagency collaboration on digital projects, was established in 2009; Swedish agencies have been guided by the 2011 Swedish Digital Agenda, which generally outlines technological goals for the government, including setting up an independent government "Digitisation Commission" to monitor agencies' digital progress.
Infusing government services with technology could contribute to "social welfare, democracy and climate improvement," then-Minister for Information Technology and Energy Anna-Karin Hatt wrote in the agenda.
For the government to develop digital services, it must separately focus on two tasks, Magnus Enzell, senior adviser at the Ministry of Enterprise and Innovation's e-government division, told Nextgov.
First, it must create the standard infrastructural elements that can be used in all government apps -- electronic identification systems and secure messaging, among others. In October 2014, for instance, the Swedish government unveiled "My Messages," an electronic mailbox through which citizens can access their own official documents and correspondence with the government. 
"On top of this, we have a more fast-paced digitization," Enzell said, referring to the development, testing and deployment of the apps themselves. 
The Swedish government recently launched a four-year digital program that gives funding to the development of new programs, according to Enzell. It is also establishing an Institute of Digital Government, a public-private partnership that could include an accelerator-type lab, where private-sector companies can test and eventually deploy government apps. 
Some of the most popular apps, Enzell said, are those that let citizens manage and monitor their personal benefits, such as Social Security, parental leave and sick days, among others. 
The government is also developing an app that would guide citizens through the permitting process when building houses. 
"It's still sort of a tricky bureaucratic process where you have to [work with] state agencies and municipalities, and they don't collaborate all that well," Enzell said. Another app currently in development would let consumers track which farms and factories their food products came from. 
These projects are outlined in the central government budget bills for 2015, according to Enzell.  
Unleashing Data
The central government has also been beefing up efforts to share data with the public.
In February, it unveiled PSIdatakollen.se, which shows how well agencies comply with eDelegation guidelines on open data. Another site, www.openaid.se, aims to show which specific programs receive financial aid from the Swedish government. 
City and county governments are also experimenting with digital programs, Webber said, including in Stockholm.
"You're seeing a resurgence of local government, local citizenships, local activity we haven't seen for a number a years."
Stockholm has its own fiber network that makes digital services at the local level feasible for citizens, Webber said. A transportation app, for instance, aims to show bikers the fastest routes through the city, he said.
Sweden's population, Enzell said, is particularly smartphone dense, so "agencies already have a constituency . . . that] is ready for e-services and apps."
Still, there are challenges at the national level, he added. The various government digital groups sometimes struggle to design user-friendly services from the start.
"We need to work on a cultural shift where the government agencies step outside their walls and become more citizen driven, and increase their involvement of users in the concrete development of services and apps," he said. "That's just about the cultural shift of focus to [apps that help citizens deal with] life events, enabled by a common digital infrastructure."
(Image via Telia/ Shutterstock.com)