Once the Government's Printing Press, GPO Jumps into Website Design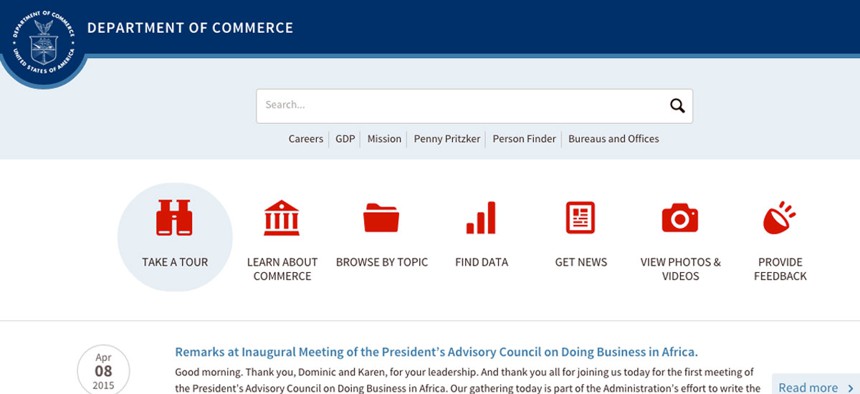 The Government Publishing Office has completed what is likely its most noteworthy website redesign to date.
Four months after the Government Printing Office rebranded itself as the Government Publishing Office, the agency announced the completion of a project that could help cement its reputation as a player in the digital space: a full-scale redesign of the Commerce Department's website.
Although GPO has developed and designed agency websites for more than a decade, this was its most complex and prominent website redesign project yet, according to Bruce Seger, managing director of customer services at GPO.
In the past, GPO has completed redesigns of smaller, specialty or mini-websites, such as Commerce's Stop Fakes site, which aims to educate the public about counterfeit consumer goods.
"Something of this magnitude is important for building our credibility and our name recognition as somebody who's capable of handling sites of all sizes," Seger said in an interview with Nextgov.
The publishing office team worked directly with the Commerce Department's IT and Web development entity to create the site based on the open-source platform Drupal, Seger said.
The team started by building a shell of the site, and then began the long process of moving Commerce's piles of data and other information over to the new website.
Commerce approached GPO based on the small agency's previous work on government websites, including the Library of Congress' Open World site and the U.S.-China Commission site, according to a GPO news release.
GPO has a leg-up on its outside design-firm competitors. When one federal agency simply asks another agency to provide a service for it, the result is often a much more efficient process than contracting with an outside company, Seger said.
For this particular service, Commerce officials only had to fill out a single form, called the SF1, to get the ball rolling.
"Rather than going through complex acquisitions and competitive competition in the marketplace, once the determination is made that GPO would be a suitable provider, we start with the SF1 and we just move on from there," Seger said.
GPO is currently in the process of working on two more federal agency websites: one for the National Council on Disability and another for the National Oceanic and Atmospheric Administration's Office of Marine and Aviation Operations.