'You're Playing God with the Internet!' Republican Shouts at FCC Chief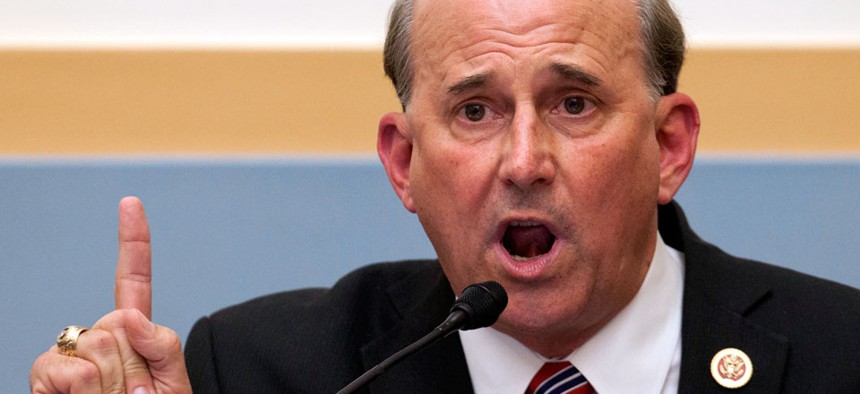 Congressional Republicans are united in their anger over new net neutrality regulations—but no one could match the fury displayed by Rep. Louie Gohmert on Wednesday.
"You're playing God with the Internet!" the Texas Republican shouted at Tom Wheeler, the chairman of the Federal Communications Commission, during a House Judiciary Committee hearing.
Wheeler was testifying in the fifth and final congressional hearing in just eight days over his controversial net neutrality decision. While Wheeler and other Democrats argue that the rules will ensure people can access whatever online content they want, Republicans consider them an unnecessary burden on Internet providers that will stifle investment.
Gohmert, who is well known for his often bombastic defense of conservative principles, was subdued when he first began questioning the FCC chief. He asked Wheeler what congressional authority the FCC has for the new rules and whether the commission will leave some room for Internet providers to reach creative business deals.
Wheeler pointed to the Telecommunications Act of 1996 for legal justification of the regulations, and responded that, yes, Internet providers still will have some freedom to experiment with new business models.
That's when Gohmert pounced: "I would submit to you that something in 1996 had nothing to do with wanting you to take charge of the Internet," Gohmert said, his voice rising. "And I would also thank you for your willingness to leave some room for exploratory business models and new business models—that's really so gracious of you. Because before the FCC stepped in, everyone was able to explore new business models!"
Wheeler didn't get a chance to respond to Gohmert's tirade. But earlier in the hearing, he argued that the big Internet providers are continuing to invest in their networks despite the net neutrality regulations.
"Openness without fear of pay-to-play is the key to innovation," he said.
The rules bar Internet providers from blocking websites, selectively slowing down traffic, or creating any special "fast lanes" for sites that pay more. 
Other congressional Republicans at Wednesday's hearing argued that the Federal Trade Commission, which enforces antitrust and consumer protection laws, would be a better agency than the FCC for handling any legitimate net neutrality abuses.
Joshua Wright, a Republican FTC commissioner, testified that more than 100 years of experience with the antitrust laws has left the FTC and the courts well-equipped to deal with Internet providers that try to strangle competition.
But the Democrats rallied to the FCC's defense. Rep. John Conyers, the panel's top Democrat, argued that antitrust laws fail to address the "non-economic goals of net neutrality, including the promotion of innovation and the protection of free speech and political debate."
Wheeler and Terrell McSweeny, a Democratic FTC commissioner, argued that consumers are best protected when their two agencies work together to combat corporate abuses.
But McSweeny did have one complaint about a byproduct of the FCC's new regulations. By classifying the Internet as a "telecommunications service," the FCC stripped the FTC of authority over the industry. She asked Congress to enact legislation to restore the FTC's power to go after companies such as Comcast and AT&T if their practices are unfair or deceptive.
"That's an idea that is definitely worthy of review," Wheeler agreed.