At This School, You Can Check Out Drones Like Library Books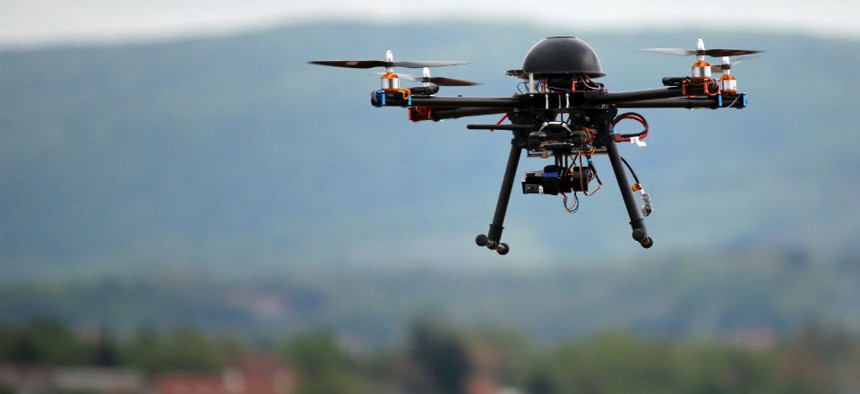 The University of South Florida recently received a grant to expand its "Digital Media Commons"—part of a broader effort to remodel the school's facilities with new technologies. After a year applying that grant money, however, something crazy happened: The Tampa-based university found itself with leftover funds. So it decided to use that money to try a little experiment—one involving, as so many experiments do these days, drones. Starting this fall, USF will be loaning out drones to its students for various multimedia projects. The remote-controlled vehicles, which are designed to capture aerial video and photos, cost $1,500 each—but they'll be free for students to check out, library book-style.
The rent-a-drone system, as you'd expect, isn't quite as simple as book check-outs are. Students will be required to enroll in a brief training program before they're able to borrow the drones. They'll also be required to explain how they'll use the drones in their work—no joy-droning allowed. And while they fly the drones over campus, the students will be supervised by a faculty member. (At the moment, the program is mostly limited to on-campus droning—though, CNN notes, off-campus use is possible with a professor's endorsement. And with students held liable for any damages the UAVs sustain in the process.)
Bill Garrison, the dean of USF Libraries, sees the drones as potential participants not just in conversations about the future of surveillance, but also about the future of libraries. "One of the things many libraries have struggled with," he explains, "is how do you become a real part of the campus and not be viewed as a book warehouse. I find it very exciting that we are able to do this, and I think the students will appreciate it."
The dean also sees the potential for the drones to serve other aspects of campus life. "We have a global sustainability program," he notes, "and they are mapping out the campus to see energy usage, so they can use the drones to help map out the campus."
Garrison, in all this, is hinting at a broader shift: USF's new program is yet another step in a process that has been, in retrospect, both long and quick: the cultural normalization of drones. The university is treating drones not as exotic machines—flying robots! gee whiz!—but rather as one more tool in the digital arsenal available to a university community. It is treating them as ... banal. "There are a lot of opportunities for research and learning by using drones," Garrison says. "And the faculty can use it, too."
(Image via risteski goce/Shutterstock.com)