We're Now Putting Ads on the Moon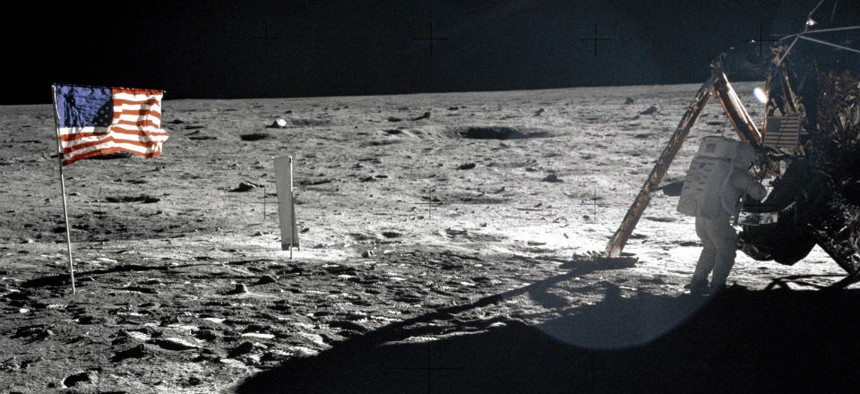 Here is a partial list of the trash that humans have left on the moon: more than 70 spacecraft, including rovers, modules, and crashed orbiters; 12 pairs of boots; 2 golf balls; an assortment of empty packages of space food; TV cameras; various hammers, tongs, rakes, and shovels; backpacks; insulating blankets; utility towels; used wet wipes; discarded personal hygiene kits; and 96 bags containing the urine, feces, and vomit of departed astronauts. Humans have left, all told,nearly 400,000 pounds of stuff on the surface of the moon; Buzz Aldrin and Neil Armstrong alone left more than 100 items on the Sea of Tranquility—including a plaque noting that "we came in peace for all mankind."
Peace, but no Hefty bags. Which I mention because, very soon, the pock-marked lunar surface will host even more of the detritus of human dreams: in this case, a small, metal canister of energy drink. The can will be composed of titanium. Its contents will be powdered. It will also be, as The Verge puts it, "the first commercial product delivered to another world for marketing purposes."
In other words, the march of human progress has come to an inevitable point in its evolution: we're about to use our celestial neighbor as an enormous billboard. With the product in question being a powdered sports drink. Because what good is the final frontier if not for helping to sell some stuff here on Earth? 
The firm behind the stunt is the Japanese beverage maker Otsuka, which manufactures a sports drink with the English-unfortunate name of Pocari Sweat. (Think Gatorade, with an "ion supply" function.) The company is taking advantage of the fact that, if all goes according to plan, the first private moon-landing mission will launch in October 2015. Otsuka is planning to put some Pocari Sweat in the Falcon 9 rocket meant to make the trip—and then to have the firm Astrobotic Technology (a company that, ironically, specializes in the clearing of space trash) deposit the canister on the moon.
According to Otsuka, the Pocari Sweat's presence on the lunar surface won't be so much about lunar ion supply as it will be about dreams. Because exploration is thirsty work! As with so much about our tentative steps into space, the drink-on-the-brink, Otsuka says, is meant to inspire young astronauts. Who one day, apparently, will travel to the moon, open up a can of Pocari Sweat, and finally feel that it has all been worth it.