America Just Launched a Rocket on a Secret Mission Into Space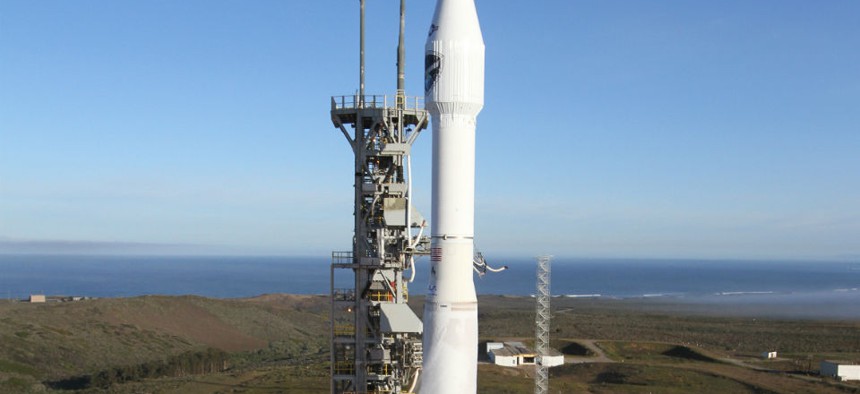 While we were all pondering Facebook's role in devaluing the media (ok, maybe a little before) the U.S. went ahead and launched a spy satellite into orbit, for use by the National Reconnaissance Office. 
Reuters reports that earlier today, an unmanned Atlas 5 rocket took off from Cape Canaveral in Florida, equipped with a "classified satellite" for the National Reconnaissance Office — one of the "big five" intelligence agencies. According to Reuters: 
Five minutes after the 9:09 a.m. EDT/13:09 GMT launch, rocket manufacturer United Launch Alliance (ULA), a partnership of Lockheed Martin and Boeing, shut down its live webcast under a prearranged news blackout ordered by the U.S. military.
The rocket was launched by United Launch Alliance (ULA) a private company backed by Lockheed Martin and Boeing. ULA vice president Jim Sponnick said the launch went off smoothly in a press release:
Congratulations to all of our mission partners on today's successful launch of the NROL-33 mission! The ULA team is honored to deliver another critical national security asset to orbit together with the NRO Office of Space Launch and the Air Force.
Sponnick adds that this marks the fourth successful launch for ULA in just seven weeks. 
Congratulations to @ulalaunch and @45thSpaceWing on the successful launch of the #AtlasV carrying #NROL33. pic.twitter.com/bOfLcEo2Uz

— NASA Kennedy / KSC (@NASAKennedy) May 22, 2014
Though the purpose of the mission is under wraps, we do know that use of the Atlas 5 rocket is contentious. Folded into would-be rival company SpaceX's lawsuit arguing that ULA shouldn't have exclusive rights to military launches is a claim that ULA may be violating sanctions by using Russian-made parts in the Atlas 5 engine,per Reuters. The U.S. had briefly banned use of the engine before changing its mind, but Russia — angered by the decision — soon retaliating by saying it won't sell the part to the U.S. anymore. So far, however, no action has been taken.
The corporate spat is taking place as space-related ties between U.S. and Russia are at a low in the midst of political conflict over Ukraine. Russia has threatened to withdraw from the International Space Station in in 2020, leaving the U.S. in a lurch. But the tense relationship has remained stable for now. We just hope that satellite isn't planning on spying on the Kremlin.