The Windmill of the Future Could Be Floating in the Sky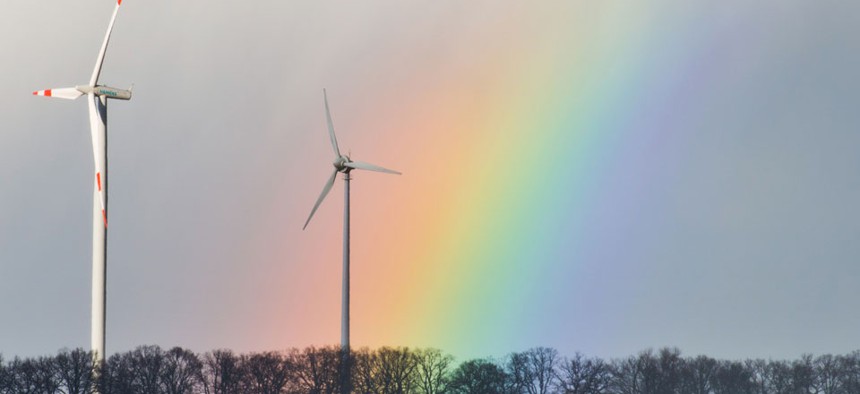 Don Quixote famously—infamously—tilted at windmills.
Were his story set today, though, Cervantes might have to change things up a bit: the monsters the self-styled knight battles might be set in the sky. Soon, in the airs above Fairbanks, Alaska, a wind turbine will be launched. It will use helium to hover above the ground, obviating the need for poles—and, for that matter, for land. The massive balloon will be, Gizmodo reports, the world's first floating commercial wind turbine.
The device is unfortunately not named the "Sky Donut." It is instead called the Buoyant Wind Turbine, or BAT. And its creator, the Boston-based startup Altaeros Energies, has developed it as an alternative to diesel generators—in, for example, remote communities or disaster areas where those generators might not be easily available. The idea is to harness the energy generated by the air that churns high above the surface of the Earth.
BAT isn't alone in its effort to serve as a high-flying harnesser of energy. Several other researchers have been racing to develop floating wind turbines,IEEE Spectrum reports. But the project in Alaska, Altaeros claims, represents the technology's first longer-term, commercial project.
The broader test? Whether Altaeros's windmills will prove popular in the marketplace. There's currently a $17-billion remote power and microgrid market that could benefit from BAT technology, the company says. There are military bases, mining sites, and even small islands that need power, after all—locations that are literally off the grid, but that still have energy needs. And Altaeros isn't alone in trying to serve those needs. Last year, IEEE Spectrum notes, Google X purchased a company, Makani Power, that manufactures airborne wind turbines. And there's also WindLift, SkySails, Sky Windpower, and NTS.
These firms aren't tilting at windmills; they're trying to reinvent them.