Oh, Deer: NASA Rocket Gets Photobombed by Hungry Animals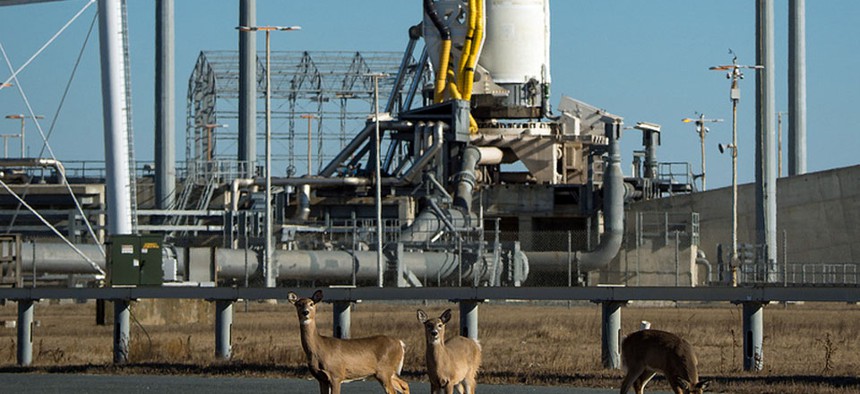 Yesterday afternoon, at 1:07 pm Eastern Standard Time, the Antares Rocket launched from Wallops Flight Facility in Virginia, bound for the International Space Station. The rocket, developed by Orbital Sciences, will deliver science experiments, supplies, and even some children's books to the orbiting lab via the commercial firm's Cygnus spacecraft.
Before it blasted off, though, the rocket was simply an extra-tall feature of the weird-and-wacky ecosystem that is Wallops Island. On Wednesday, as people made the final preparations for Antares to streak into the sky, NASA photographer Bill Ingalls got a shot of some curious onlookers: three white-tailed deer.
The trio, as pictured, seem wonderfully unimpressed by their space-bound surroundings; they're simply grazing on the grass that surrounds the launch pad. And don't worry about their safety: As another picture proves, the deer, just after Ingalls got his shot, scurried away.
Nor is this the first time that animals have photobombed a rocket. This September, the launch of NASA's Minotaur V (the rocket that would help deliver the agency's LADEE craft to the moon) saw the launch of "rocket frog," the amphibious almost-astronaut that was shot off the ground by the force of the Minotaur's ignition. The Antares deer, fortunately for all but the frog, had better luck.