Government Tweets Down Sharply During Shutdown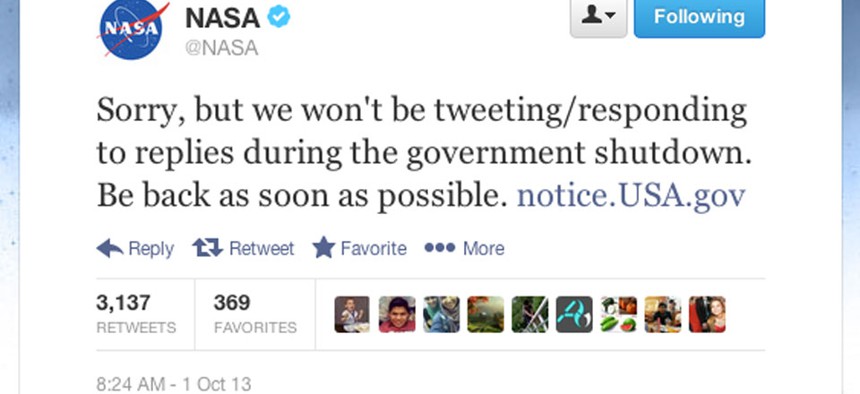 Federal government Twitter accounts have been tweeting at about one-third their normal level since the government shut down on Oct. 1, according to a tally created by Measured Voice, a social media analysis and management company.
Federal agencies and officials post about 2,047 tweets during a normal weekday, but have been posting about 723 a day since the shutdown began, according to the tally.
Measured Voice built the Federal Social Media Registry, which the government uses to verify its hundreds of social media profiles across Twitter, Facebook, YouTube and other social sites under contract with the General Services Administration.
The company has built several other tools using public streaming data from the registry to investigate the government's social media reach. Among those tools is Great Gov Tweets, which uses an algorithm that factors in how often government tweets are retweeted and favorited to deduce the most engaging government tweets each week.
The algorithm weighs tweets based on how many people follow each government handle, so the most followed handles aren't always listed as the most engaging, Measured Voice President Jed Sundwall said.
Since the shutdown began, the agencies posting the most popular tweets has shifted significantly, he said, largely because some agencies that typically lead the pack -- such as the Interior Department, which tweets pictures from its popular Instagram feed, and NASA, which tweets updates from its missions -- have furloughed most of their social media staffs.
In the week following the shutdown, the government's top tweeters included the National Weather Service, the U.S. Air Force and National Guard and the State Department's Farsi language Twitter feed.
One anomaly Measured Voice's analytics turned up was that the most popular tweet announcing the government shutdown came from the architect of the U.S. Capitol, an account that rarely sees much engagement. Many members of the public likely presumed the architect's handle @uscapitol was an overarching account for the government, Sundwall said.