How China's Solar Boom Fizzled and Went Bust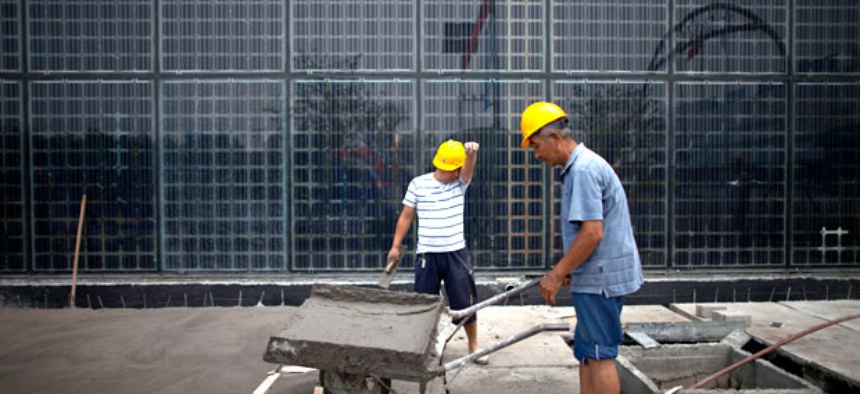 If one city epitomizes China's role as cheap manufacturer for the world, it's Wuxi, a sprawling metropolis of more than 4.5 million people a short bullet-train ride northwest of Shanghai. Out beyond the old town, with its ancient temples and canals, much of modern Wuxi is a massive industrial park, a seemingly endless grid of wide, straight roads fronting squat factories bearing the names of international brands: Epson, Nikon, Panasonic.
Wuxi's industrial zone also is the epicenter of the global solar-energy industry, a sector now in the throes of convulsive growing pains. Specifically, the zone is home to the gleaming glass-fronted headquarters of Suntech Power Holdings Co., which over the last decade sprang from local startup to world's largest solar-panel maker — and then, this spring, declared that its main business unit was bankrupt.
Lesser versions of Suntech's bust are repeating themselves throughout China's solar sector, as other once-triumphant panel makers flirt with insolvency. They grew too fast, propelled by inefficient environmental subsidies in Europe and the United States and by billions of dollars in backing from governments and banks in Wuxi and across China. The Chinese solar stampede was a mad dash for easy money, and at first it seemed unstoppable. But then Western governments dialed back their solar largesse, demand for China's solar panels failed to keep pace with the industry's torrid production increases, and inventory began piling up. The result: Manufacturers' balance sheets began turning red.
In China, many powerful people—from officials in local governments to leaders of the biggest banks—helped fuel the solar glut. Now, to save face as well as their investments, they are racing to rationalize the industry by consolidating companies and restructuring incentives. Leaders of solar companies in danger of being squeezed out of business are scrambling for continued support.