New Tool Could Free Syrian Rebels From Reliance on State Internet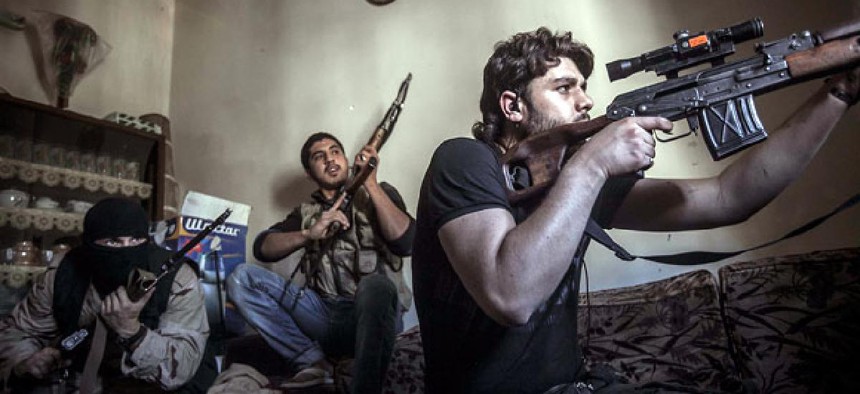 Syrian rebels may soon have a tool that can effectively nullify what appears to have been a state-imposed Internet blackout this week, the director of the Open Technology Institute said Wednesday.
Sascha Meinrath's Institute is working on Commotion, a U.S.-government funded project to create "mesh" networks of local Internet connections that don't rely on external Internet service providers.
In the case of Syria, he said, that would mean anti-government forces could still communicate by email, Web posts and Internet-based phone and text messages, undeterred by the sort of Internet blackout that hit the country for 19 hours Tuesday and Wednesday.
Commotion developers are asking the hacker community to help identify security vulnerabilities during a number of ongoing beta tests, Meinrath said. The institute expects to release a non-beta version of the software by the end of 2013 or in the first quarter of 2014, he said, that could be distributed in Syria or other nations where the Internet is under state control.
"It's obviously built to be used in exactly these situations," Meinrath told Nextgov. "It's solely for an overabundance of caution that we really do not recommend people use this now in places where their lives are on the line. We don't want to accidentally increase risk to users."
Commotion is being funded by grants from the State Department, the U.S. Agency for International Development, Radio Free Asia and numerous private foundations.
The Syrian government blamed Tuesday and Wednesday's blackout on problems with fiber optic cables that carry Internet into the Middle Eastern nation. Experts have called that explanation unlikely. They speculated embattled Syrian President Basher Assad may have been trying to disrupt internal and external communication by rebel forces that have attacked his regime for two years or giving increased cover to government military operations.
The Syrian Internet was shut down for three days in November 2012.
The Commotion project was dubbed "stealth Internet" and "Internet in a suitcase" when news of it first broke in June 2011. That was about six months after ousted President Hosni Mubarak shut off the Egyptian Internet in an attempt to disrupt protesters during the last days of his regime.
Since then, beta versions of Commotion have been deployed in numerous small networks in Washington and elsewhere in the United States, including in parts of Brooklyn, N.Y., in the days after Hurricane Sandy disrupted most other phone and Internet communication.
"Given the need that existed after Hurricane Sandy, we decided 'that's enough running code, let's get this thing out there so people can use it,'" Meinrath said. "In terms of emergency response, that was our first successful test case."
For the Brooklyn test case, the institute partnered with a group called the Red Hook Initiative to offer phone and SMS texting service. Red Hook residents could log onto the Commotion local network from laptops and smartphones basically as they would log onto any other unsecured wireless network.
Red Hook residents used the system in the days after the hurricane to stay in contact with friends and family and to communicate about downed electrical wires and emergency supply stations, Meinrath said.
The system could be deployed during similar emergencies as an alternate Internet and phone service provider when major Internet providers are either brought down by bad weather or flooding or are jammed by excessive use.
"I would have loved to see a Commotion network in Boston [during the marathon bombing]," he said, "because when the main system was completely jammed and overloaded, people locally who had lost touch would have still been able to contact one another and be reunited."
In the long term, Commotion-style local networks could help deliver Internet to largely un-connected parts of the developing world more cheaply than is possible with the current crop of Internet service providers, Meinrath said.
One reason is that a community could share a network rather than buying into it individually, similar to the way companies set up local area networks for their employees, Meinrath said.
The system would also allow information such as emails and text messages to travel directly between members of the network rather than jumping out to the larger Internet, he said, which would be a less circuitous and cheaper path. 
Listen to the full Nextgov interview with Meinrath here: