The private drone industry is like Apple in 1984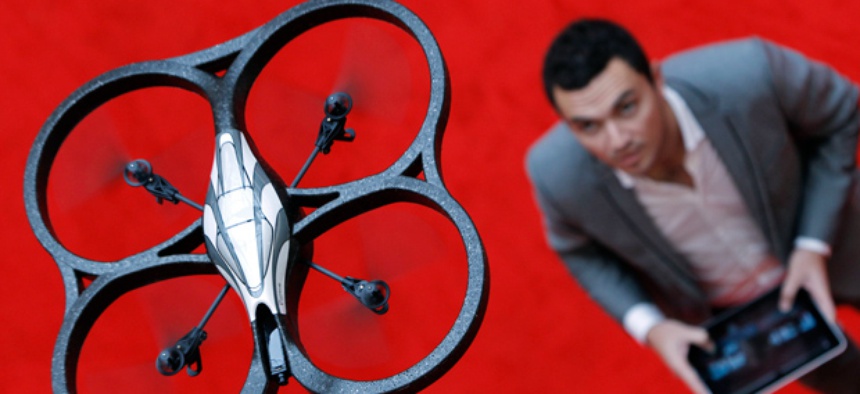 When the Phantom first takes off, it sounds like a swarm of bees. But when it rockets 200 feet into the air at 25 miles per hour, you can't hear it at all. It's just a small dot with blinking lights, waiting where you tell it to wait, taking pictures with its camera until you ask it to come back home.
When the chief executive of DJI's American subsidiary, Colin Guinn, came to Los Angeles to sell film studios on his company's professional-grade unmanned aerial vehicles, he also let Quartz test-drive the company's newest product: the Phantom, a remote-controlled quadcopter with a camera mount that you can essentially fly right out of the box. It sold some 2,000 units in the first week after its Jan. 7 debut, according to Guinn. 
DJI is a Hong Kong-based company that makes automatic pilot packages for helicopters used by filmmakers in need of steady, controlled shots. Guinn, who ran an aerial photography company using the technology, helped convince DJI to produce unmanned aerial vehicles, or UAVs, like the Phantom. 
The Phantom is not a drone in the fullest sense of the word: It can't follow a pre-programmed GPS path. But it can use satellite navigation to hover in place autonomously, and it can navigate itself back to where it took off from if something happens to the controller, or if you just want to show off.
But it is arguably the most complete consumer drone on the market, combining affordability, ease of use, robust flight abilities, and range. And it's designed to usethe popular GoPro camera. Other drones are cheaper, like the Parrot, but it doesn't have the Phantom's range, or 3D Robotics' ArduCopter, which is more fully-featured but requires more assembly.