NTSB's cursory exam of the Boeing 787's main battery shows no problems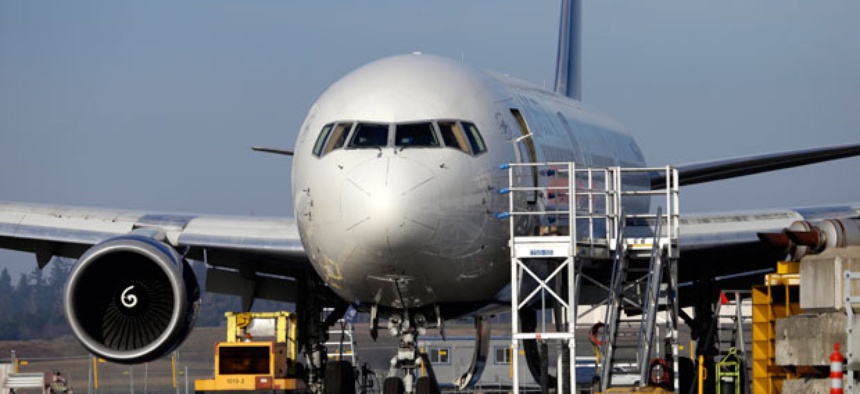 The National Transportation Safety Board said a "cursory comparative exam" found no obvious anomalies in the main lithium ion battery of the Japan Airlines Boeing 787 that caught fire on Jan. 7 at Logan International Airport in Boston.
After an All Nippon Airlines 787 battery started smoking while in flight on Jan. 16, regulators around the world, including the FAA, grounded all 50 aircraft in operation until Boeing fixes the battery problems.
Last Thursday, the NTSB reported that the lithium ion batteries in the JAL aircraft's auxillary power unit experienced short circuits and a "thermal runaway" -- a rapid, uncontrolled increase in temperature. The NTSB, in a press release Sunday, said "more detailed examination will be conducted as the main battery undergoes a thorough tear down and test sequence series of non-destructive examinations."
The main 787 battery is housed in a compartment under the cockpit; the APU battery is located in another compartment just aft of the wings, as shown in this schematic drawing. GS Yuasa of Kyoto manufactures the 787 batteries.
The NTSB said it conducted a test of an APU at manufacturer Securaplane's lab in Tucson, Ariz., and the APU controller at UTC Aerospace Systems in Phoenix. "Both units operated normally with no significant findings," the board said. UTC is a subsidiary of United Technologies and Securaplane is a subsidiary of U.K.-based Meggit PLC. Thales PLC, located in a Paris suburb, has a contract for the 787's electrical power conversion system.
Two NTSB investigators have been dispatched to Seattle, with one assisting the FAA in its testing of Boeing's 787 "root cause corrective efforts" and the other will take part on the FAA review of battery system special compliance documentation. In November 2007, FAA granted Boeing permission to operate the 787 under "special conditions," which acknowledged the known flammability of lithium ion batteries