Innovation fellows help you navigate the federal Web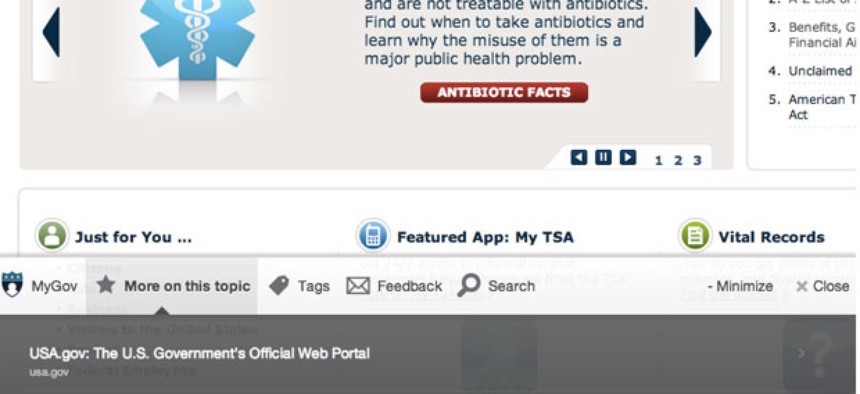 A team of Presidential Innovation Fellows tasked with making the federal Web presence more navigable launched the beta version of a new toolbar Wednesday focused on doing just that.
The MyGov Discovery Bar will slide into view when users reach the bottom of a federal Web page suggesting related government pages the reader might be interested in, according to a blog post.
The team described the toolbar's suggestions as similar to what would come up using the government-only search engine on the General Services Administration's USA.gov page or the "People who bought this item, also bought" recommendations on Amazon.com. News websites use similar tools to alert visitors to related stories.
MyGov hopes to eventually offer the toolbar as a plug in for frequent federal website visitors and to have some agencies automatically install the toolbar on their sites, team member Ben Balter said.
The government has struggled since early in the Obama administration to make its Web presence more comprehensible and navigable, including by launching an initiative to trim outdated dot-gov sites and by launching Business USA, a single Web interface for small businesses that combines content from numerous agencies.
MyGov's toolbar operates by associating certain content tags with a government webpage and recommending related pages regardless of which agency hosts them. Users of the beta service will be able to look at the tags associated with their pages and to offer feedback, the MyGov team said.
MyGov is one of five teams of Presidential Innovation Fellows. The fellows are all experts and entrepreneurs from outside government on temporary assignment to tackle a thorny government technology problem. The program was the brainchild of Chief Technology Officer Todd Park.
Other Presidential Innovation Fellows teams are focused on making government procurement easier for small businesses, making government data more accessible, making personal health data more accessible and helping the government shift to electronic payments abroad rather than cash.