A 2006 battery fire destroyed Boeing 787 supplier's facility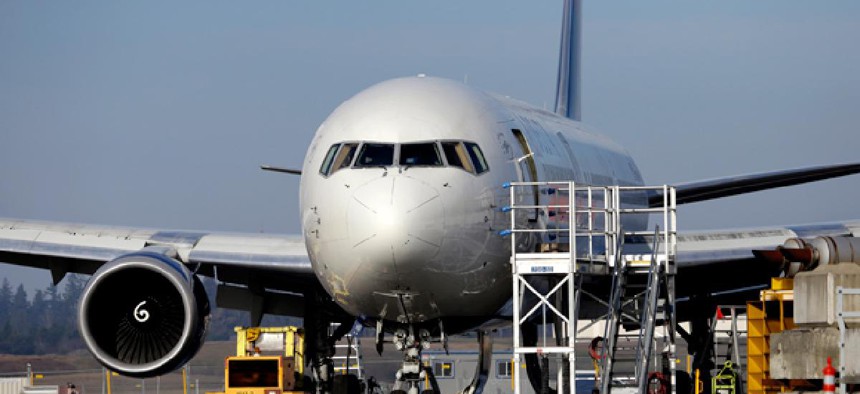 An explosion in a lithium battery under development for use in the Boeing 787 Dreamliner resulted in a fire that destroyed the Tucson, Ariz., facility of manufacturer Securaplane in 2006.
Following that incident, an employee filed a whistleblower lawsuit with the Labor Department alleging the company had produced an unsafe battery. Labor dismissed the suit on procedural grounds.
Internal documents from the Pipeline and Hazardous Materials Administration show that Securaplane tested a battery from one manufacturer for use in the 787 but substituted another for use in production systems based on assertions that the new batteries were identical to those tested.
Securaplane manufactures the lithium ion auxiliary power unit and a battery charger unit for the 787. The Federal Aviation Administration grounded Boeing's entire fleet of 787s after battery fires earlier this month.
Securaplane, a unit of global engineering firm Meggit PLC, based in the United Kingdom, manufactures the systems for Boeing under a subcontract with Thales, headquartered in a Paris suburb. Thales has a contract for the 787's electrical power conversion system, with GS Yuasa of Kyoto supplying the batteries.
Michael Leon, a Securaplane engineering technician, was working on the 787 battery charger unit when it exploded in 2006. He complained in January 2007 that the units did not conform to design schematics, according to a final decision and order Labor issued July 15, 2011.
According to that 56-page document, Securaplane won a contract for the 787 battery charger unit in 2004. In November 2006, while Leon was running tests, the battery exploded, resulting in "a devastating fire that destroyed [Securaplane's] labs and production building."
Despite his concerns, Leon said he was "pressured [by Securaplane] to sign off on Acceptance Test Procedures (ATPs) for noncompliant units and ship them to customers. He says he gave in to pressure to run the ATPs, knowing they would be re-run after he fixed the units, but balked at actually shipping noncompliant units," according to the document.
On March 1, 2007, Leon left work without shipping what he thought were noncompliant battery charger units. When he returned to work on March 5, 2007, he received a formal written disciplinary warning. Leon says he continued to raise the nonconformance issues and the discrepancy, but no one fixed it. Eventually he filed an FAA complaint. 
Meanwhile, Leon charged, he was subject to disciplinary action, was later suspended, and eventually fired. "Leon believes the timing of his termination proves Securaplane was motivated by retaliatory animus toward Leon's protected safety activities," the Labor Department decision said.
Securaplane, along with Thales and GS Yuasa, conducted a two-year investigation and narrowed the cause of the fire to one of three possibilities: a defect in one corner of a battery cell; prior damage to the battery; and Leon's failure to connect a harness that transmits signals between the battery and the charger unit during the test.  
Boeing spokesman Marc Birtel said the 2006 fire resulted from "an improper test set up, not the design of the battery." FAA spokeswoman Laura Brown said the agency "investigated Mr. Leon's complaints in 2008 and 2009. The investigation determined that the battery charging units in the complaints were prototypes, and none are installed in Boeing 787 aircraft. Our reviews also determined Securaplane's production of a particular printed circuit board complied with FAA requirements."
Leon said Securapane dismissed him while he was engaged in "protected activity relating to air safety concerns that he brought to the attention of both Securaplane management and the FAA."  The company said that Leon, among other things, was a convicted felon who lied to fire investigators, falsified his employment history and violated company email and Internet policies.
Labor Department Administrative Law Judge William Dorsey ruled that Securaplane had legitimate reasons to fire Leon, including "his continued pattern of engaging in antagonistic, demeaning, rude, and intimidating conduct."
On Jan. 31, 2011, sometime after it had started using batteries supplied by GS Yuasa in its battery charger unit (based on the Labor Department ruling), Securaplane told the Pipeline and Hazardous Materials Safety Administration that a  battery pack for use in the 787 manufactured by Kokam of Korea had "passed all required FAA and Boeing environmental test requirements" in tests conducted by Mobile Power Solutions of Beaverton, Ore.  
In an email to the Pipeline and Hazardous Materials Safety Administration, Rod Iverson, a Securaplane program manager, said Rose Electronics of San Jose, Calif., manufactured the battery for those tests using Kokam battery cells.
He said the Rose Electronics battery used in the tests conducted by Mobile Power is "identical to the product to be manufactured by Securaplane," for use in the 787.  In a March 15, 2011, letter to Iverson, Ben Supko, acting chief of the standards development branch in the standards and rulemaking division of the Pipeline and Hazardous Materials Safety Administration, said, "Provided the lithium ion batteries you intend to manufacture are identical to a previously detected design type, additional testing is not required."
Daniel Doughty, president of Battery Safety Consulting Inc., in Albuquerque, N.M., told Nextgov that "there is no way" one lithium ion battery can be described as identical to another. Doughty, who managed the Advanced Power Sources Research and Development Department at Sandia National Laboratories for 14 years, said it is "a bad assumption" to accept such batteries are identical due to different cell chemistries and cathodes used.
Boeing's Birtel said the batteries referenced in the correspondence between Securaplane and the Pipeline and Hazardous Materials Safety Administration are not "the specific battery type currently under NTSB investigation or subject of the FAA emergency airworthiness directive."