Air Force plans 'see-and-avoid' system for drones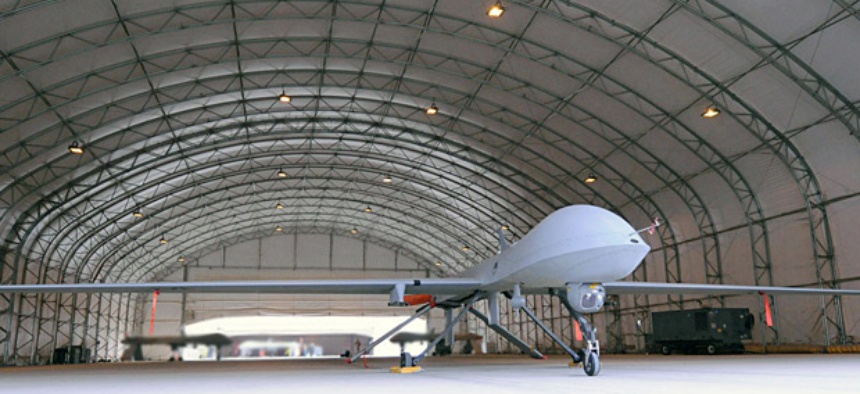 The Air Force wants to turn pioneering research conducted by its research laboratory in Rome, N.Y., in 2005 into production-ready technology that would help aircraft avoid midair collisions. The service is pursuing the technology as the Federal Aviation Administration gears up to allow the widespread use of unmanned aircraft in domestic airspace by 2015, a move opposed by pilots and airlines who believe unfettered use of drones could pose serious aviation hazards.
The Air Force Aeronautical Systems Center at Wright-Patterson Air Force Base in Ohio announced a need for industry to help develop an airborne sense-and-avoid system to allow drones to operate safely in domestic airspace. The center plans to host an industry conference in November or December.
The Air Force Research Laboratory's Multisensor Integrated Conflict Avoidance/Joint Optimal Collision Avoidance system has successfully demonstrated using sophisticated software to help avoid airborne collisions.
The Aeronautical Systems Center said it want to develop a "sensor-agnostic" see-and-avoid system, but said it expected the first generation would be based on technology tested by the Research Laboratory and widely used in the commercial airline industry. These included the Traffic Collision Avoidance System, installed in aircraft to monitor nearby airspace, and the Automatic Dependent Surveillance-Broadcast system, which transmits Global Positioning System-derived locations of aircraft and is the core of FAA's Next-Generation Air Transportation system.
The Airline Pilots Association International, in comments on an FAA rule-making process on the use of drones in domestic airspace, recommended they be equipped with ADS-B and the Southwest Pilots Association urged the use of TCAS.
The Aeronautical Systems Center said it initially plans to install the airborne sense-and-avoid system on Global Hawk drones. A Navy Global Hawk drone crashed on Maryland's Eastern Shore in June, the seventh known crash since 1999 of a Global Hawk, an aircraft originally developed for the Air Force.