Some states may be barring the door to unemployment benefits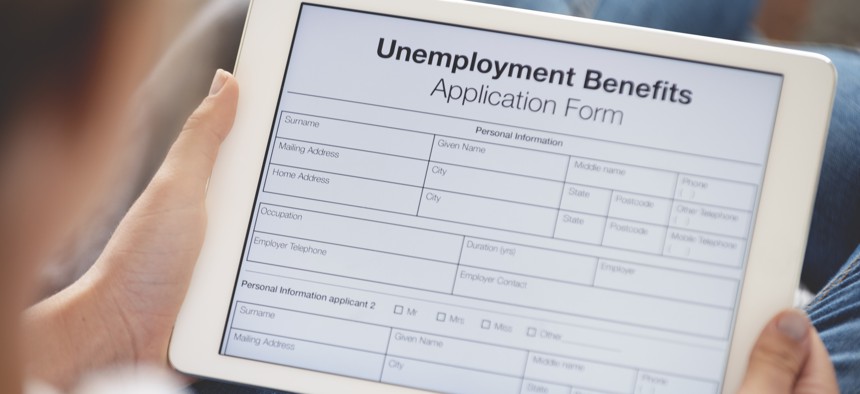 Despite Labor Department guidelines, nine states are requiring UI applicants to verify their identity before submitting applications.
Across nine states—South Carolina, Rhode Island, Pennsylvania, North Dakota, Nevada, Kentucky, Illinois, Idaho and Florida—individuals have to pass identity verification checks before they can apply for unemployment benefits, according to recent research by Georgetown University's Beeck Center for Social Impact and Innovation.
The setup is potentially leaving eligible individuals who can't clear identity systems without many options for collecting benefits. 
The fraud prevention motive at the state level is unarguable; official estimates put unemployment insurance fraud at $60 billion for the first 18 months of the COVID-19 pandemic, when enhanced benefits were offered to millions put out of work.
The states in question tie identity proofing to online account creation, requiring individuals to prove their identity before, during or immediately after creating an account—or before anyone can apply for benefits. In another state, Kansas, some but not all applicants appear to be required to clear identity checks before applying as well.
Researchers collected the data about "active" steps individuals have to take to prove their identities in unemployment systems between October and November 2022, although they've made updates to some specific entries based on feedback and new information, according to researchers.
Labor Department guidance requires states to accept applications before identity verification checks so that individuals receive appealable determinations if a claim is denied. 
"States are encouraged to have ID verification... but the one thing you can't do is have it be the front door that makes the decision," said Michele Evermore, senior fellow at the Century Foundation who was the deputy director for policy in the Labor Department's Office of Unemployment Insurance until late 2022.
"If there's a technology out there that's preventing individuals from filing for a benefit that they have earned, and it's preventing them from even any due process in getting a bad decision overturned, that's a violation of one of the very few core requirements of the Social Security Act," said Evermore.
"It's a massive deal," she added.
Andy Stettner, the Labor Department's deputy director for policy in the Office of Unemployment Modernization, told FCW via email that the department, "is actively working with states to help them to comply with our guidance, in ways that protect the system from fraud while providing the due process protections required by law.
"States are required to send a notice to individuals who fail ID verification," wrote Stettner.
As for how the Labor Department might enforce this guidance, Evermore has previously told FCW that the department's enforcement authority is relatively limited. Stetter told FCW that the department's "compliance authority" is its ability to dictate states' "eligibility for federal administrative grants as well as eligibility for federal unemployment tax credits."
Evermore said that she's unaware of the department ever actually ever taking away a state's administrative funding.The Labor Department hasn't withdrawn the tax credit from states before, she said.
Who is getting left behind?
It's unclear how many eligible individuals have or will be prevented from applying for jobless aid because of this setup.
One issue is a lack of data, said Julia Simon-Mishel, a supervising attorney in the Unemployment Compensation Unit at Philadelphia Legal Assistance.
"The problem with [the setup] for states, especially states that are using a private vendor—you go to the unemployment website… and then you're fed to a third party vendor—is that the state has no record of who is actually trying to apply," she said.
Stettner confirmed to FCW that the Labor Department also can't track drop-off rates of those who start identity verification but don't finish it.
Of the states in question, seven use identity vendor ID.me, FCW confirmed with an ID.me spokesperson. Two use LexisNexis Risk Solutions and one uses Experian, as of fall 2022, according to the Beeck Center's research and other publicly available information.
Some portion of any drop-off would be deterred fraudsters, an ID.me spokesperson told FCW. 
Simon-Mishel said that eligible individuals trying to file a claim can also struggle.
"There are still a lot of questions about who is not making it through identity proofing and why," she said. "I cannot even begin to tell you how many of our clients don't understand the instructions… and [they] just drop off."
Because the researchers themselves weren't actually filing claims—they relied on publicly available information like jobless aid application portals and vendor websites—it's unclear what happens to legitimate applicants who can't verify themselves, said Elizabeth Bynum Sorrell, a researcher on this project at the Beeck Center.
States are required to offer phone or in-person alternatives to online applications, according to Simon-Mishel and Evermore. However, Simon-Mishel said that these options can be a "false choice," pointing to hurdles like long wait times for phone calls.
Getting in the door
ID.me, a contractor that offers selfie-match technology for identity proofing, told FCW that its pass rates are over 80%. It did not provide FCW specifics for drop-off rates, noting that it's difficult to distinguish between fraudsters and legitimate applicants who don't finish the process. 
People who struggle to complete the ID.me self-service process are routed to a video chat to be verified. Government agencies can also purchase configurations of the service where users choose between self-service, video and in-person options.
Media reports detailed hours-long wait times for the video review option in 2021. A company spokesperson told FCW that ID.me's median wait times to meet with a video chat agent over the last 6 months has been under 4 minutes. 
LexisNexis did not provide FCW specifics about pass rates for its knowledge-based verification, although they did say that their solutions use "multiple layers of physical and digital verification." The company referred FCW to states for that information and questions about drop-off rates and options for individuals who do not pass.
Experian, used by one of the 9 states in question, did not respond to request for comment.
"The fact is, we do not know how many people are struggling to use these [selfie and authoritative document matching tools]," Linda Miller, a fraud expert formerly of the Government Accountability Office and the Pandemic Response Accountability Committee, told FCW by email. She now leads a boutique consultancy called Audient Group. 
People with limited proficiency, those who are homeless and don't have source documents like driver's licenses and others might struggle, Miller said.
She isn't the only person with concerns. 
The Labor Department's Inspector General released a memo on April 4 calling on the department to issue more guidance around the use of facial recognition in jobless aid and urging for "extreme caution to ensure claimants are not subjected to discrimination by the use of facial recognition technology."
States also face competing mandates and practical challenges as they balance access and fraud prevention in the system.
Evermore said that she fielded questions about the guidance on appealable determinations from states while at the Department of Labor. Some states were getting hundreds of applications a day that were obviously the result of bots and state officials wanted to know if bots need those same determinations.
Other risks include protecting the personally identifiable information about people that's housed in unemployment systems. Evermore told FCW via email that "states go to great lengths to safeguard PII," although she also noted that the "vast majority" of the stolen data used by fraudsters to impersonate workers during the pandemic came from data breaches outside of the jobless aid system itself.
And when fraudsters using stolen identities do get into the system, that can cause headaches for those victims of identity theft.
What's next?
The Beeck Center's report comes as governments continue to grapple with spikes in fraud in the unemployment system during the pandemic. 
As Stettner told FCW, "Digital identity verification is a new area for the unemployment insurance program, given the increased risk of identity fraud."
States might have a new digital identity option soon—the Labor Department has a pilot to use  government-run identity system Login.gov on the state level and expects to expand to "a few more states," said Stettner, who also said that "in response to requests from many states," the department is also "exploring a national option for ID proofing for states."
For Simon-Mishel, the anxiety is that concerns about fraud might be overshadowing people trying to get help.
"It's almost like blinders have been placed on state agencies when dealing with these issues," she said. "Those blinders prevent them from seeing the real people right in front of them that are trying to access the system."