White House budget proposal includes CX, fraud prevention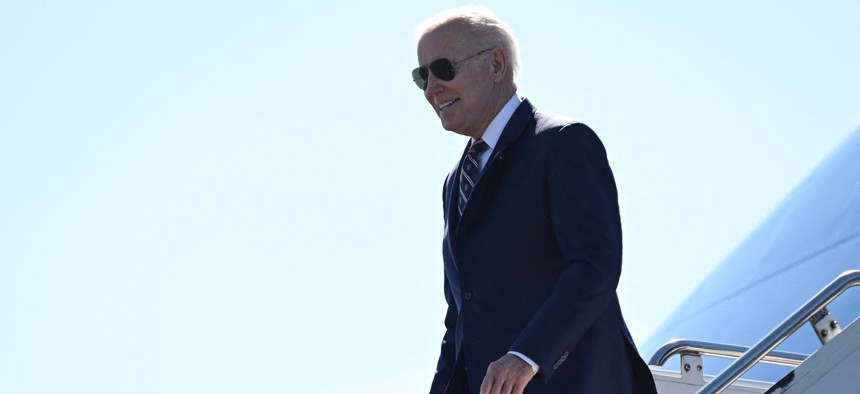 The White House released its fiscal 2024 budget request on Thursday with calls for anti-fraud provisions and funding for the administration's priority around customer experience and money for tech modernization.
One priority in the budget request is the $1.6 billion anti-fraud proposal released by the administration last week. 
The requested direct spending would go to funding COVID-19 Fraud Strike Forces, inspectors general and analytical tools meant to help with investigating and recovering of money doled out to fraudsters, as well as resources meant to prevent fraud. 
Although it's included in the budget request, the proposal is for $1.6 billion in mandatory spending. A White House spokesperson told FCW that mandatory spending provisions have been included by Congress in annual appropriations packages before, but the White House isn't dictating how Congress might pass the proposal.
The ask includes some specific proposals for the jobless aid system, which has been a target for fraudsters since the start of the pandemic. 
The White House includes a $522 million bump for the unemployment system from fiscal 2023 enacted levels, to a total of $3.7 billion in its budget request.
That funding would go to identity verification tools, fraud-prevention tools and the Labor Department Inspector General, according to the budget, which also includes "a comprehensive legislation package of program integrity proposals designed to provide states with new tools and resources to combat UI fraud and improper payments while ensuring equity and accessibility for all claimants."
One specific idea – requiring states to check datasets of new hires and prisoners against claims and recoup 5% of recovered fraud to use for fraud prevention and recovery. 
White House documents claim that the unemployment proposals would "lead to $2 billion in budgetary savings."
At least $60 billion in jobless aid has gone to fraud, according to a recent low-end estimate for fraud in the unemployment system by the Government Accountability Office.
House Republicans also recently offered up their own unemployment fraud proposal that would claw back some of the $2 billion for work on unemployment insurance programs funded in Democrats' American Rescue Plan Act. 
The White House proposal appears to have some overlap with that of congressional Republicans – like the provision to allow states to keep a cut of recovered fraudulent payments and use data matching systems. 
But the White House draws a distinction in a budget fact sheet, which reads "these proposals are designed to provide states with new tools and resources to combat UI fraud and reduce and recoup fraudulent and other improper payments and contrast with congressional Republican proposals that could actually impede and distract from efforts to address systemic fraud."
Customer experience proposals 
The request also included over $500 million related to a White House priority – customer experience, or how the public experiences and perceives the government, particularly in services and benefits like unemployment or disaster relief.
Among the measures called out in the budget proposal are scaling or creating customer experience offices in 9 agencies – the departments of Agriculture, Commerce, Homeland Security, Interior, Treasury, Labor and Veterans Affairs, as well as the Small Business Administration and Social Security Administration. 
The budget request also includes hiring over 120 new CX-focused feds and investing in "voice of the customer" programs at seven government agencies that would collect and report data on how individuals experience government. 
Another proposal: embedding the General Services Administration's Technology Transformation Services as "surge capacity" in six other agencies to work on priority service improvement projects and funding interagency teams tasked with projects to simplify government services according to "life events" like financial shock.
The money would also go to modernization and online tools, including $6.6 million for the Office of Personnel Management to improve retirement services for feds and $119 for GSA programs like the U.S. Web Design System.
A White House fact sheet details $75 million for cross-agency pilots around life experiences. That includes an ask for $11 million for cross-agency work around financial shock – particularly via improving data systems to determine eligibility for applicants – as well as $9 million for HHS and SSA to improve Medicare enrollment, $40 million to expand a pilot to offer personalized case management to low-income families with new babies and another $15 million for demonstrations on cross-agency delivery of services.
The White House's request also asks for $642 million to improve taxpayer experience at the IRS via work like expanding customer service outreach. That's alongside a 10% increase over fiscal 2023 levels at the Social Security Administration to improve customer experience, disability determination services and teleservice centers. 
White House officials are expected to release more spending details in the budget request next week.