Can a new data strategy can help the Department of Labor shape a more inclusive economy?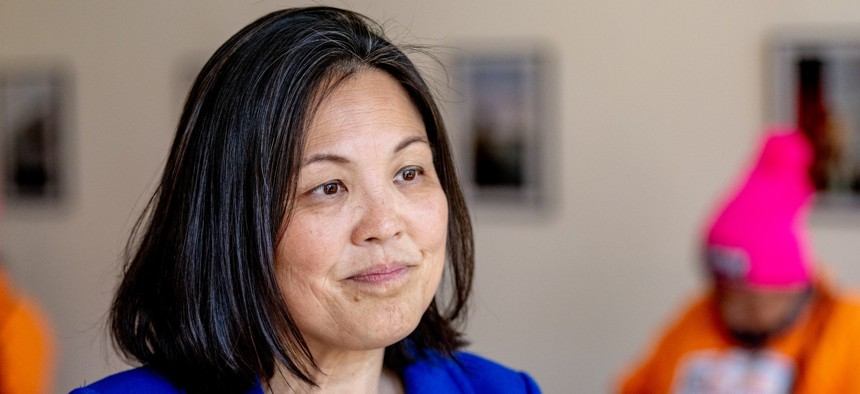 The Department of Labor released a new, three-year data strategy on Wednesday, an effort top officials say can inform policies and evaluate programs. 
Some might say this news isn't "sexy," said Deputy Secretary of Labor Julie Su at a Brookings Institute event on June 15, but "it actually ties to everything sexy that we try to do, which is how are we going to deliver on making real this promise of true equity, access and the like."
There are already some efforts at the department to use data to understand how programs are working, and for what people, and allocate resources to the most vulnerable using that information. A new pilot using state-level data on unemployment, for example, is looking at disparities among what applicants get the benefit.
Another endeavor Su highlighted at the department are efforts to examine the connection between education and workforce training programs and job outcomes, something that might take the form of a scorecard on program effectiveness.
Measuring internal efforts within the department itself will also make sure that the Labor Department's own programs and policies aren't "perpetuating systemic barriers for people of color and other underserved groups," a focus for government agencies elucidated in Biden executive order last year, said Su. "We can evaluate whether we are delivering on a vision of what a strong and resilient and inclusive economy looks like."
The new data strategy is meant to coordinate departmentwide efforts to improve the quality of its data and data processes, and make data from different components of the organization more interoperable. Another prospect is making more department data publicly available. 
To get there, the department will have to build capacity in its data infrastructure, capabilities and processes. 
"Gathering and disseminating and making data easy to consume, understandable and transparent and comprehensible and fit for purpose are not things that happen overnight," said Su. 
Two assessments of the department's data capacity done in fiscal year 2020, and referenced in the report, showed the department needing to further mature in terms of its human capital and tech specifically. 
More broadly, a "culture shift" in how officials think about data is also going to need to happen, said Su.
Already, the strategy has buy-in from top officials, Department of Labor Chief Innovation Officer Chike Aguh told FCW on the sidelines of the Brookings event.
"We're having those important conversations internally about how agencies plan their efforts, what data points are they going to take on, how are they going to collaborate and work together," he said.
The department's Chief Information Officer, Gundeep Ahluwalia, said in a statement included in the strategy that his office supports the strategy. 
"The DOL Data Strategy, coupled with leadership engagement and an enabling operational plan, will help OCIO accelerate the centralization and integration of DOL data to achieve operational efficiencies and improved insights in support of evidenced based decision making and alignment with DOL modernization activities," he said.
The Labor Department also interfaces with and collects data from state-level departments, which are facing their own capacity challenges, said New Jersey Department of Labor and Workforce Development Assistant Commissioner of Research and Information, Lesley Hirsch. 
When asked how the new strategy pertains to state-level actors, Aguh said that "if you think about DOL data, there's data that we directly control and there's also DOL data that we produce and create in concert with states… Assume we look to apply those principles across all those types of data."
He pointed to the pilot on unemployment equity as an example, where certain states are participating alongside the department.